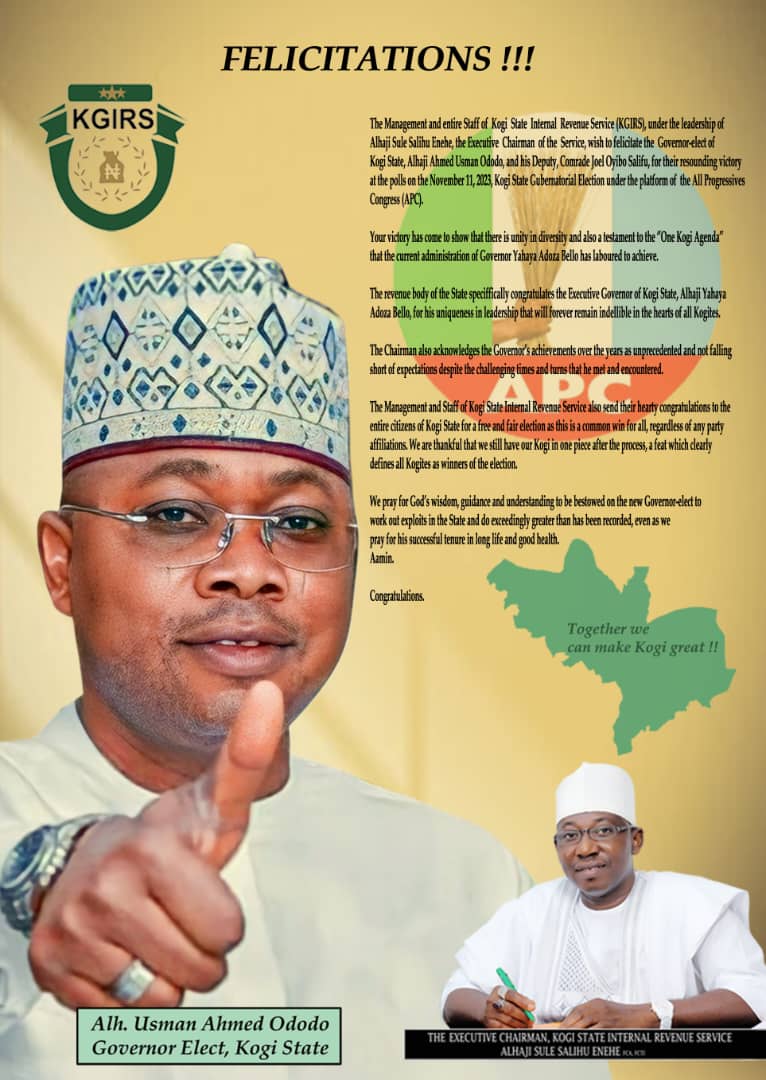 By Jato Muhammad
As the political scene in Kabba/Bunu is gradually gathering momentum, some political stakeholders are already planning ahead of 2023 general election.
It was reliably gathered that a group known as club 12 clans felt that they may not support any ambition or any representation at both state House of assembly and federal House of representative in 2023 general elections that is not a bonafide son or daughter of Kabba Kingdom.
According to information available to me, it was alleged that club 12 clans said they have the number and they are not comfortable with the current occupant of the seats in both chambers, hence they shall mobilized their people to work against them come 2023 general elections.
A powerful politician name withheld in the area who disclosed this to newsmen said that both the current occupants in the chambers are not true born or bonafide sons of Kabba community, however they can manage the member in the House of Representatives.
According to him, the Speaker of Kogi state House of Assembly, Prince Matthew Kolawole is from Omodo clan which means, out of the legitimate sons and daughters of Owe kingdom he is not one of them, hence is not legible to represent them again.
He stated that he is more or less a 'slave' in the community.
Another prominent member of the community who pleaded anonymity because of the sensitive nature of the issue confirmed the existence of second class citizens in the area.
According to him they are called 'Aninyere' in Ebira language meaning blacksmith, as they are believed to be settlers who came from the blacksmith origin in the now Edo State.
He added that the indigenes do not recognize them as real citizens.
He also noted that the case was so serious in Kabba that there had been about two or three riots linked to such classification.
"It is a subtle crisis. It caused a lot of problems but people outside will not know. But within Kabba community, the indigenes know. They do not intermarry. They call them Idi-amori (in Yoruba meaning the source we do not know). But they prefer to be called Omo-odo, that is, people from downside.
"There should have been 14 clans in Kabba but there are 13. The 14th clan would have been the Idiamori but they do not regard them as a clan because they see them as slaves from other clans," he said.
According to him, in Kabba especially, the ruling class is referred to as people of royal blood as the current Obaro of Kabba is from Ijemu clan, the royal family.
He stated that residents were segmented in their own clans.
He said, the people referred to as slaves or second class citizens, who he said are called Idi-amori, normally fight along with the Ilajo, the royal people, because they believe that they are the ones that brought them into the town.
The source said that anytime there was a crisis, the people termed as second class citizens always teamed up with the royal family to fight against the other people. He added that the so-called second class citizens were reputed to be fetish, such that other people fear them.
"But they are not accepted in the family. For example, if you are from the royal family, you cannot marry them. If you marry them, it means when your turn comes to become a king, you cannot become a king.
"In Kabba, those people regarded as second class citizens do not have land unlike every other family. The Idiamori do not have family land. They cannot lay claim to any family land. If they want to have land, they have to buy, just as strangers buy. The real citizens do not marry them.
This can attested to as the ongoing construction of new palace of Elesho of Owe land who is the head of Omodo clan was stop due to litigation from the land owner.
"In those days, when you married them, you were termed as part of them. But now, if you marry them, socially they are integrated to some level but not as much. In the olden days, one could not marry them at all or even befriend them," he said.
He noted that in Kabba, there are two deities: the Oro (ebora deity) and the masquerade. He stated that the Oro deity is the one being worshipped by the 'real indigenes,' adding that history has it that the masquerade was given to the Idiamori.
He added that those who worship masquerade belong to Idamori and in the olden days, were not entitled to wear the crown. He said they had chiefs that were called Olu while that of the indigenes are called Oba. The source noted that by that, people would know that they were not indigenes.
The people termed second class citizens are common in Odo-Akate, Bolorunduro Street and Iyah, all in Kabba.
"In Kabba we have some neighbouring villages that are about 22 or thereabout. They are scattered in all those places but they are more pronounced in Kabba. Their title head is called Elesho or Otu," he said.
It was learnt that modern day slavery and discrimination thrive in these communities as they are not allowed to marry the 'real' indigenes of the sate, cannot participate in traditional ceremonies and are not allowed to contest for political positions.
According to him, when a king was chosen in the olden days, the second class citizens would go to a certain mountain and announce that a king had been appointed because they regarded them as slaves or messengers. He added that the practice is still on till date.
He said that any king these so called slaves do not announce will not be termed a proper king.
"We have cognomen which we call Oriki. They also use the cognomen of those who brought them as slaves so to speak. For instance, the royal family in Ilajo, their Oriki is called Omoehi. In other two clans, we have for instance the omo-aro etc.
"So they too, wherever they find themselves, they put such cognomen to their names but when it comes to real Kabba issues, they have no say.
The source said that another way of discriminating against them is the observance of traditional festivals.
He mentioned that there is the Oro festival in which people do not go out. He noted that, however, initiated male children who are indigenes of Kabba are entitled to come out.
He also said that the second class citizens are not permitted to come out and would not be initiated into the group as they are regarded as not belonging to that area.
He stated that this issue had generated crisis in the area.
According to him, some of the second class citizens who insisted on coming out to observe the Oro had attracted calamities to themselves. He said they either died or ran mad within seven days.
The source added, "Each time there is an Oro festival, some of their boys will want to come out. In the olden days, elders did not fight them but madness or other terrible things would happen to them if they came out.
"Some years back, they came out and insisted by force they must see the Oro because they believed that they were part of Kabba. It generated a lot of crisis. Because of that, the state government banned the Oro festival and their own festival called Abo or masquerade, which normally comes up every December 27 or 28.
"During the Oro which belongs to indigenes, people will ascend to the mountains. Kabba is full of hills or mountains. It is a seven-day event but in the first and second days, they will come down. While coming down, it is normally announced that the Oro festival wants to pass through the town. So people will stay indoors maybe from 8am to noon and from 1pm to 5pm, the Oro will pass."
He pointed out because the Idi-amori boys now want to observe the Oro festival by force, government had directed people to restrict the observance of their festivals to their area of abode.
He claimed that in the olden days, the masquerade could not go to the palace of the Obaro and anyone that defied that would die there. He said that the masquerade still does not enter the Obaro palace.
The prominent member of Kabba community also said that there is currently the issue of grading of their traditional rulers although they successful graded their Elesho through a back door which according to him will be challenge in the court very soon.
But he said that Kabba people will always rise and kick against further grading because of the notion that they are not real chiefs.
It was also alleged that the Obaro of Kabba, Oba Solomon Dele Owoniyi during the Annual General Meeting (AGM) of Kabba Development Union (KDU), on 26 December 2020 made it clear that Owe does not have representatives in government and as such they shall make it a duty to stop any candidate who is not a member of club12 clans.
Enough of this second class representation in Owe land.