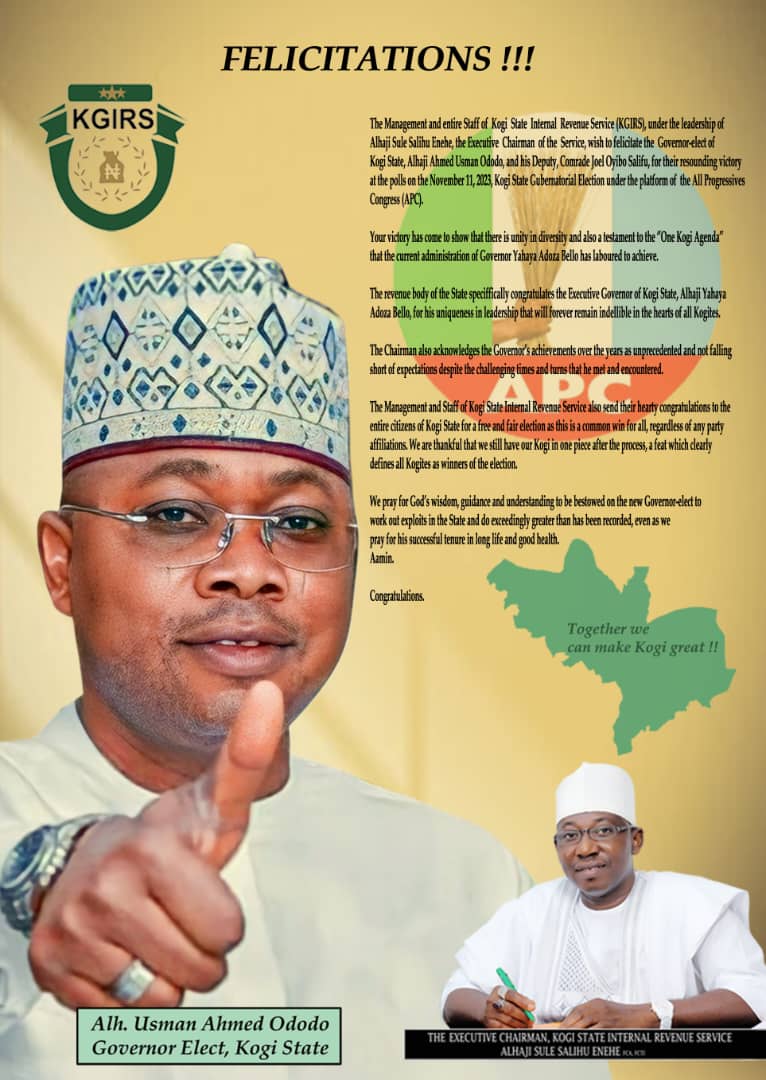 Kogi State Governor Alhaji Yahaya Bello has charged members and supporters of the All Progressive Congress APC in the state to work together as indivisible entity in order to deliver the party's presidential candidate in the forthcoming general election.
Governor Bello gave the charge at government house Lokoja on Tuesday while addressing stakeholders and party loyalists from Lokoja, Kogi , Okene , Okehi and Ogori-Magongo local government areas of the state ahead of 2023 general election.
He said the performance of the party in 2015 and 2019 general elections in the state that gave the APC unprecedented victories across all the contested positions should be repeated in 2023.
The governor said "In 2015 we all voted for president Muhammadu Buhari and other candidates of our party. Also in 2019 through our collective efforts we are able to return President Buhari , we won seven out of nine house of Representative seats , we also got the three senators and won all the twenty five house of assembly seat in the state.
"That commitment and loyalty to our party is still very strong and we want us to repeat such feat in 2023. We must ensure that we vote for APC presidential candidate Senator Ahmed Tinubu and his running mate Senator Kashim Shettima and other candidates of our great party.
"We will definitely have the highest votes in the north central to prove to Nigerians that Kogi is APC and APC is Kogi. Therefore you should be resolute and prepare by collecting your PVC from INEC ahead of 2023 general election" he advised
The governor who warned all the candidates of the party in the state against disconnecting themselves from the electorates in their various constituency, said the power of winning elections lay in the hands of the grassroots and urged the candidates to always identify with their supporters.
Earlier in his remark , the state chairman of APC , Hon. Abdullahi Bello charged the stakeholders to be united as the party is moving toward the all important election slated for 2023.
He applauded Governor Yahaya Bello for making the party strong in the state and assured that Kogi chapter of APC will leave no stone unturn to deliver all its candidates comes 2023 election.
The Deputy Governor of the state Edward Onoja in his closing remark charged the electorates who are yet to obtain their PVC from INEC to do so to enable them cast their votes during election.