The presidential candidate of the All Progressive Congress (APC) Asiwaju Ahmed Bola Tinubu has promised to resuscitate Ajaokuta steel company , drudge river Niger and use the abundant mineral resources to create jobs and boost economic activities in the country.
The APC flag bearer made the promise at the confluence stadium in Lokoja on Wednesday during his presidential campaign rally that witness unprecedented crowd from across the state.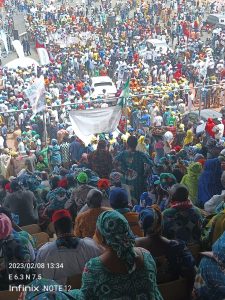 The APC presidential candidate said the moribund Ajaokuta steel company which president Muhammadu Buhari has started to resuscitate will be completed and operationalize by him to create enormous jobs for the people if voted as the next president.
He added that other potentials abound in Kogi state such as dredging of river Niger, mineral resources would be harness to create wealth for the state and the nation at large.
While appreciating the effort of the APC members and the multitude supporters who converged at the stadium to welcome him, the APC candidate assured them that their sacrifice will never be in vain.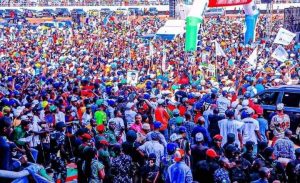 "I am assuring you that your sacrifice for converging here under the hot sun will never go in vain . I am appealing to you that on 25th February, 2023 there will be a presidential election come out and cast your vote for APC from top to bottom so that we can change your lives for better" he said.
He pointed out that he is a better candidate when compare to other candidates from other political parties, saying he will use his wealth of experience to develop the country if given the opportunity through the ballot papers.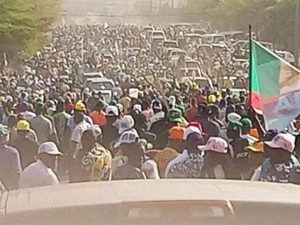 In his remark, the Kogi state governor Yahaya Bello stated that in 2019 Kogi APC delivered massive votes to the presidential candidate of the party , assuring that the performance of APC in the forthcoming presidential election will be in multiple fold.
The governor assured that when Asiwaju Ahmed Tinubu becomes president of the country jobs will be created through the resuscitation of the Ajaokuta steel company.
He urged the people of the state to come enmass and cast their votes for the APC presidential candidate, saying there is no hope for any opposition party in Kogi state.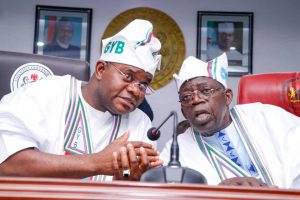 In his welcome address , the Kogi State Chairman of APC , Abdullahi Bello said the people of the state have resolved through their actions to deliver ninety nine percent votes for the presidential candidate of APC.
The APC presidential candidate and his running mate Senator Kashim Shettima were accompanied by Jigawa state governor Abubakar Badaru, Niger state Governor Abubakar Sani Bello, Kwara state Governor Abdulrahman Abdulrazak, former Bauch state governor Mohammed Abubakar and members of the presidential campaign council PCC.