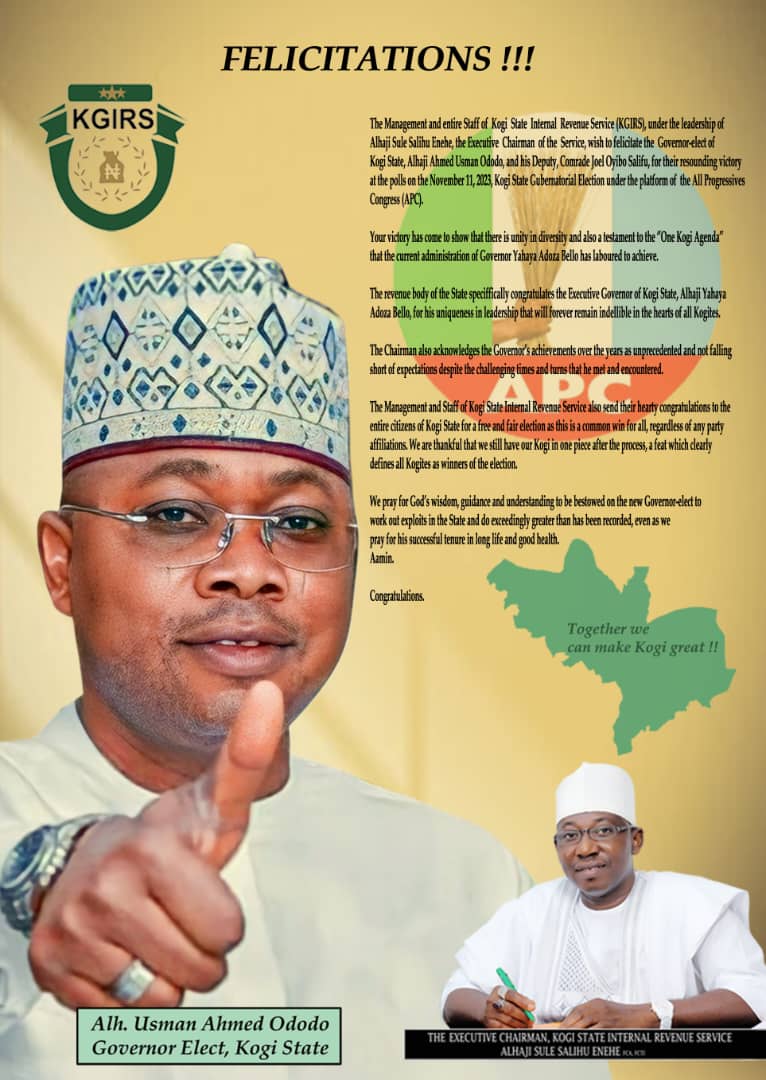 A frontline governorship aspirant from Kogi East on the platform of the All Progressives Congress, (APC ), in the forthcoming governorship election in Kogi state Hon. Murtala Yakubu Ajaka has described his purported suspension as an "avoidable distraction" saying he will rather remain focused so as to emerge victorious in the forthcoming APC primary election scheduled for April.
Ajaka who is also the Deputy National Publicity Secretary of APC, while stating that the suspension was baseless,as he was not suspended from his ward in the local government as enshrined in the APC party's constitution will have no effect whatsoever on his ambition to Lugard house and strongly noted that his concern presently is to win the primary election.
Media reports had on Thursday announced his suspension which has since been denied by his ward in Ajaka 1.
But, in a media interactive session on Saturday in Abuja, Hon Ajaka called on members of the party and his supporters across the state to remain calm, assuring that in a political contest of this nature, there is room for crisis of interests.
He said" Everything legitimate will be done to ensure a well deserving victory for me at the forthcoming primary election, you can take my words to the bank"
While describing the so called suspension as very unfortunate and lacking in due process he said "by the constitution of our party, the assumed suspension is null and void because I was not informed of committing specific offence before the suspension was announced." I was not informed of any offence, they didn't tell me my wrongdoing to enable me defend myself as provided by the constitution of our party"
" The constitution is simply unambiguous and the position of the party indicates that any decisions against any member that has not been properly communicated charges against him or has not been given the chance to defend himself shall be voided"
" I am therefore not worried. I am encouraged to work harder for the victory of the All Progressives Congress in the forthcoming governorship election slated for November, just like I did during the Presidential election of Tinubu/ Shettima, the National assembly and state assembly elections"
I urge all my supporters across the state to keep up and continue to work more vigorously in our campaign activities for the ultimate victory of our party"
Hon. Ajaka was successfully screened for the governorship election today, (Saturday 25, 2023).