Two persons on Tuesday morning lost their lives in a ghastly accident involving a truck and motorcycle that occurred in front AEDC office in Okene, Kogi State.
An eye witness account revealed that a truck with registration number Kaduna KMC 48 YC loaded with baskets of tomatoes suspected to be heading to Lagos crushed a motorcycle that carried two person at AEDC zonal office in Okene around 11am on Tuesday.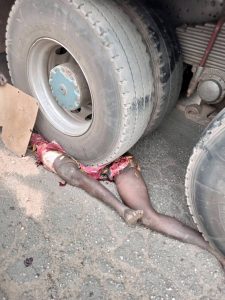 The source who identified himself as Mohammed Lamidi further stated that the two victims died on the spot as one of the victims was badly damaged by the truck.
He added that the corpses of the victims though not yet identified have been taken to a mortuary in Okene general hospital.