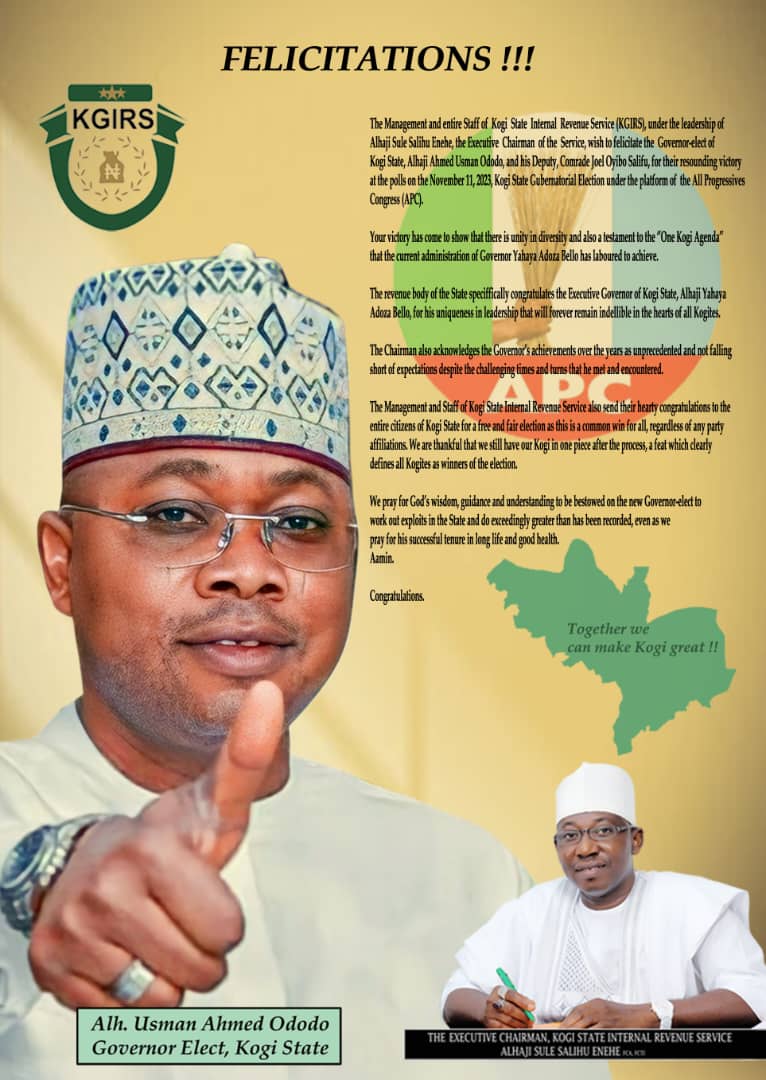 The Chairman/Founder, Enemona Josh Foundation, Gabriel Onoja has congratulated His Royal Majesty, the Attah Igala and Chairman, Kogi State Council Of Chiefs on the occasion of the presentation of staff of office to him by the Kogi State Government.
Gabriel Onoja in a message to the paramount ruler of the great Igala Kingdom, said he joined millions of well-wishers across the globe to celebrate with Alaji Matthew Opaluwa on the historic occasion which is a milestone in the history of Igala land.
He also extended his good wishes to the monarch and looked forward to seeing a brighter future of Igala land under his reign.
"I am confident that the people of Igala and the land will continue to see development and abundance in the years ahead under Your Majesty's reign," the statement reads.
"On behalf of Enemona Foundation, I extend my warmest congratulations and best wishes to Your Royal Majesty on the most auspicious occasion of Your Royal presentation of staff of office.
The philanthropist cum entrepreneur, expressed hope that Igala land will see peace, development, socio-political and economic development during his reign as Attah
He urged the paramount ruler to rule the people with great hope and optimism, courage, fear of God and the ancestors.
Gabriel equally charged the Attah to do all within his powers to unite the polarized Igala sons and daughters, bring them together and forge a common front that will attract investors to the land, which he said is blessed with numerous mineral deposits.
In the statement, Gabriel Onoja who has championed the campaign of youths employment in recent times, appealed to the Attah Igala to bring influential Igala sons and daughters together to forge a common front that will lead to the emancipation of the land especially through provision of cottage industries, skills development centers and other employment ventures.
Gabriel charged the subjects of the kingdom, the Kogi State Traditional Council and all citizens of the state to cooperate with the Attah to ensure the much needed, peace, unity and prosperity being advocated for the land come to reality.
He pledged the support of his foundation to the Attah, saying the foundation would collaborate with him in building bridges of progress in the land.