Renowned businessman, a philanthropist par excellence and President Of Enemona Josh Humanitarian Foundation, Ambassador Gabriel Onoja on Monday 11th September , 2023 marked his birthday in a unique, remarkable and heartwarming manner to the admiration of many people in Kogi State.
The Philanthropist, instead of a lavish celebration, chose to spend his special day with the less privilege and those in need to demonstrate his unwavering commitment to philanthropy which is the hallmark of his foundation.
Gabriel's birthday celebrations took place at the Ministry of Mercy Orphanage in Crusher community, Lokoja, shown in love and generosity to children who were under the care of spirited individuals.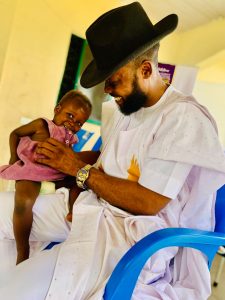 During his visit to the orphanage home , Enemona in his usual humane characteristics presented several essential items which includes noodles, assorted soft drinks, sugar, packs of toiletries, gallons of detergents, cleaning supplies and other basic essentials for children.
According to him , it was necessary he celebrated his birthday that way as not many people have the opportunity to be alive or the opportunity to get the basics of life.
Known for his generosity, the philanthropist expressed his desire to share his joy with those less fortunate.
He emphasized that true happiness comes from giving and that he would continue to give back to the community of those in need from time to time like he has always been doing.
The children who danced to birthday songs beautifully chanted by Igala gospel minister, Abigail Omonu who was on his entourage, expressed joy that they were remembered on a day as such
They expressed their gratitude for the essential items he provided and felt genuinely cared for. They acknowledged him as a beacon of love, kindness, and generosity, stating that his actions would inspire others to follow suit.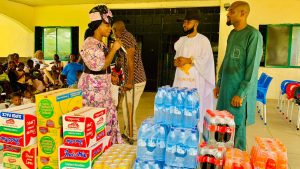 He called on well spirited Nigerias to always put the needy in their plans as they have no body to take care of their needs and welfare.
The visit to the orphanage was attended by friends of the philanthropist including Mrs. Abigail Omonu who has been a spiritual director to both Enemona Foundation and the president Gabriel Onoja.