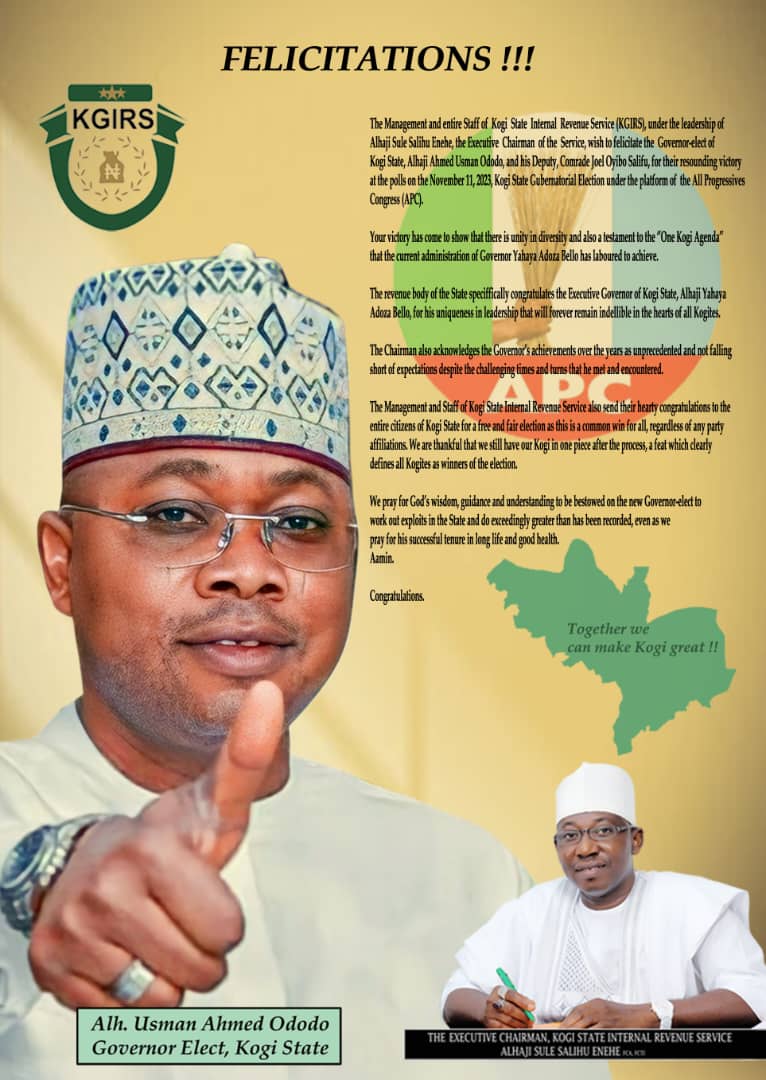 A former House of Representatives member who represented Idah Federal Constituency in Kogi State, Hon. Ismail Inah Hussein alias Soul Lover, has dumped the Peoples Democratic Party (PDP) for the All Progressives Congress (APC) along with his teaming supporters.
Hon. Inah Hussein was on Friday dressed and decorated with APC's robes by the Kogi Party Chairman, Hon. Abdullahi Bello in Ajaka, Igalamela-Odolu local government area, as a sign that he has fully pitched tent with the ruling party.
Inah who was a dedicated member of PDP in Kogi state, said his decision to join the APC was borne out of his desire to contribute to the development of Kogi State and the country in general.
He said the APC government under Governor Yahaya Bello has instituted unity, security and overall development of the state hence, his decision to support the APC governorship candidate, Alhaji Usman Ododo for consolidation.
Speaking during his admission into the party and witnessed by a mammoth crowd, the heavyweight political leader in Kogi East vowed to mobilise massively for his new party and ensure that APC wins overwhelmingly in the November 11 governorship election.
Also decamping was the former Women Leader of the PDP in Igalamela local government area and wards women's leaders in the area.
The Kogi Commissioner for Transportation, Honorable Baron Okwoli, in his address commended Inah and his followers for their decision to join the APC and assured that they will work together to ensure victory for the party.
Similarly, the Deputy Governorship Candidate, Elder Oyibo Salifu Joel expressed his joy for the high turnout to receive the former lawmaker.
He noted that the mammoth crowd is evidence that people believe strongly in APC despite propaganda from opposition parties.
He assured the people of Igalamela-Odolu and the entire state that the governorship candidate, Alhaji Usman Ododo when elected, would consolidate on the unity, security and infrastructural development instituted by Governor Yahaya Bello.
State party Chairman Alhaji Abdullahi Bello, welcomed the former lawmaker and his supporters.
He affirmed victory for APC in Igalamela-Odolu and urged the new members to remain steadfast and committed to party functions with a promise of equal opportunities alongside existing party members.
Dignitaries present at the event included former State Chairman of APC, Alh. Hadi Ametuo, Elder Joel Salifu Oyibo, Hon. Muhammed Nasiru Alfa, Zonal Chairman of APC; Hon. David Idris Zacharias, member representing Idah Federal Constituency at the Federal House of Representatives; the former Commissioner for Local Government and Chieftaincy Affairs, Hon. Sadiq Abubakar Ainoko among others.