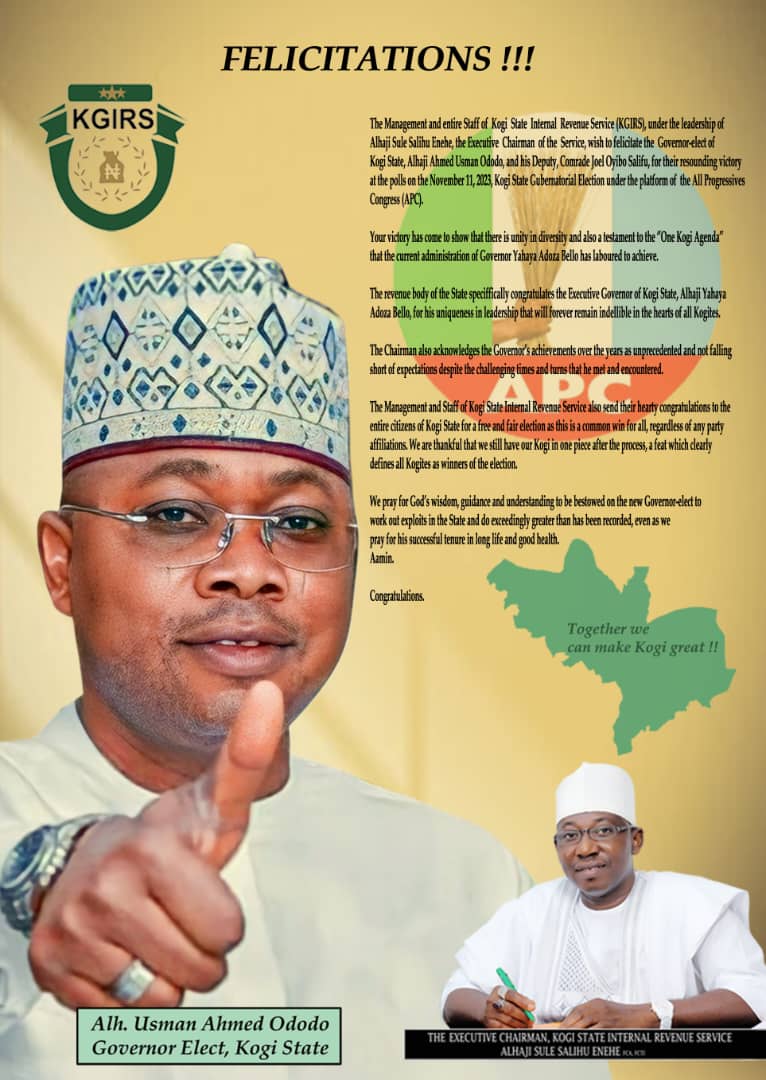 The Nigerian Union of Allied Health Professionals (NUAHP), Kogi State Council has conferred the Compassionate and Philanthropic Gesture award on the Director General Government House Administration, Alh. Dr. Umar Oricha Shuaibu.
Balogun Omeiza David, Media Aide to the DG Government House, said
The conferment of the award on Alh. Dr. Umar Oricha Shuaibu took place in his office at the Government House when twenty members of NUAHP paid him a visit.
The body of the NUAHP was led by Comr. Samuel Obafemi Obajemu who took his time to shower encomiums on Alh. Dr. Oricha Shuaibu, a man many people now refer to as "Oda-Yozari", a type of eulogizing a good and generous man in Ebira language which means a man who makes provision for others to eat from.
While elucidating on the reasons for their visit, Comr. Obajemu that NUAHP as a body has embarked on this visit to say a big thank you to Alh. Dr. Umar Oricha Shuaibu for his unending love towards sick patients needing help to offset their medical bills.
In his words, "I am glad and also privileged to stand before Alh. Dr. Umar Oricha Shuaibu, a man I have read so much about and have also felt his impact on his unending love that has made him to offset the medical bills of so many patients that money would have sent to their early graves.
"I cannot count how many children, men and women tgat God has healed them from their various sicknesses through the financial support of this man named as Oricha. I normally stand in awe each time I am opportune to meet men and women having this type of godly nature like Alh. Dr. Umar Oricha Shuaibu.
"It is crystal clear to all and sundry that his giving nature is an innate quality that cannot be erased from his system. It is our earnest prayers that God Almighty will keep him safe and sound for the lot of humanity to enjoy more of his unmatched act of benevolence"
Speaking further, Comr. Obajemu said NUAHP is always ready to release their members to embark on free medical treatment should they find a ready hand that is on ground to sponsor such to help those with series of ailments but not having the funds to seek medical attention.
He also hinted that NUAHP as a body is yet to have access to mobility to carry out various responsibilities of the council appealing that they will be glad if much attention is given to them which will make NUAHP function better.
Most importantly, the body pledged their unalloyed support to Alh. Ododo Ahmed Usman (OAU), the Governorship candidate on the platform of the All Progressives Congress (APC) for the 11th November, 2023 Guber elections.
Responding to the visiting team of NUAHP, Alh. Dr. Umar Oricha Shuaibu ascribed all thanks and honour to God Almighty who has helped him to this point of his life.
He said, "I am a product of God's grace and that is why I strive to see that I help the less privileged in my own little. While growing up, I have seen an experienced what it means to be on the side of poverty. It is not a position any human being will want to belong to but I am glad that God Almighty removed the fangs of poverty from me.
"That is the more reason I will always humble myself before fellow mortals as whatever I have or that I am today was given to me."
Alh. Dr. Umar Oricha Shuaibu spoke further by thanking His Excellency, Alh. (Dr.) Yahaya Bello (CON) for counting him worthy as one of the hands that should work with him. He described the Governor as a man sent by God to help him fulfill part of his destiny and also to have the wherewithal to stretch his hands of generosity to the few people God Almighty has helped him to reach out. In his words, "Whatever I do today that some of you are seeing as an act of godliness was simply orchestrated by my parents who were generous to a fault when they were alive.
"They never hoard the little they had at their disposal but rather shared their resources gotten from farming among neighbours. I am glad that I am not in anyway different from my father and mother as an elephant can never give birth to a monkey. I must also say it without mincing words that the position the Governor gave me really helped me to touch lives.
"I want to thank you all for seeing me worthy to be commended and also to be conferred with an award. May we all men of goodwill remain blessed and favoured by God Almighty."
Alh. Dr. Umar Oricha Shuaibu also promised to convey the message of the total support NUAHP has pledge to give to Alh. Ododo Ahmed Usman (OAU) which will be part of the many votes that will coast OAU to a landslide victory at the polls.
The Compassionate and Philanthropic award was thereafter conferred on Alh. Dr. Umar Oricha Shuaibu by the Comr. Obajemu after which group photographs were taken to make the visit a red letter.