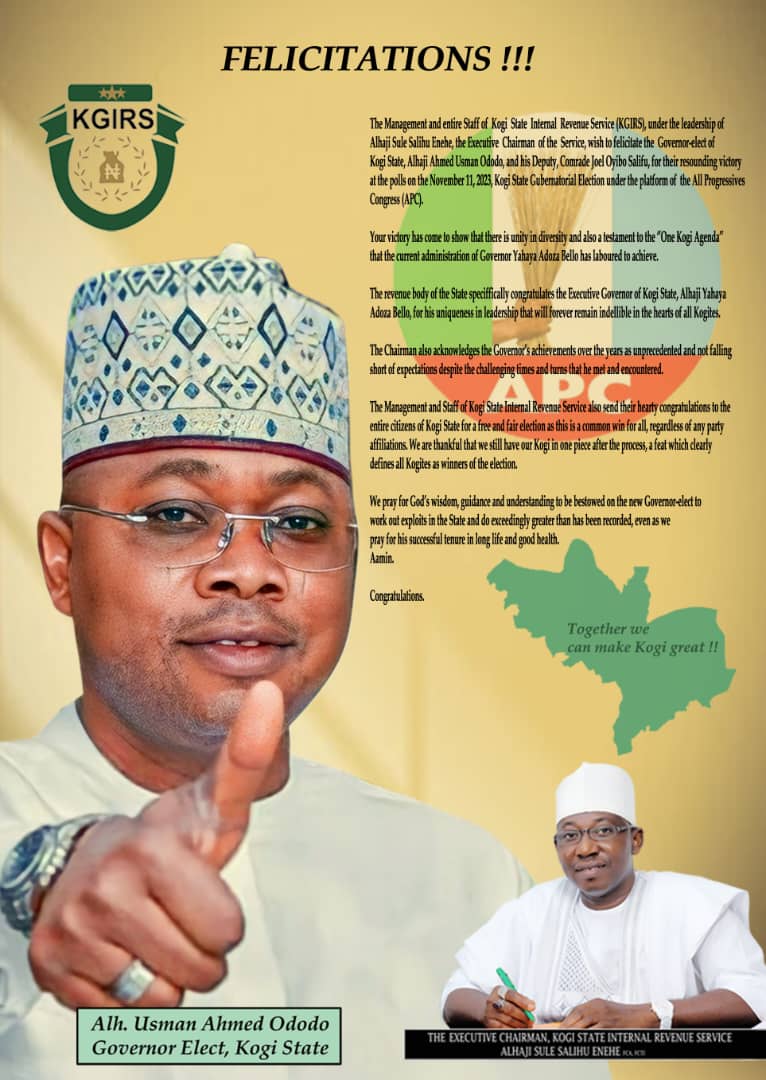 By Ramatu Tasalla Shehu Atta
The seeming arduous search for a suitable running mate for the Presidential Candidate of the APC; Asiwaju Bola Ahmed Tinubu should be a source of concern to many who are committed and loyal members of our dear party as well as all lovers of democracy.
Following the victory of Asiwaju at the party's presidential primary election, it is expected that our candidate should by now, be engrossed with his team jointly coordinated by himself and his running mate (not a placeholder) on the strategies for winning the forthcoming presidential election.
As a loyal and committed member of our party, I feel obliged to draw the attention of the coordinating teams, the think tank and other strategy groups of our party, which includes Asiwaju and his inner team, governors elected on the platform of the party and the National Working Committee, NWC to take a look at one area of possible search for a viable VP Candidate that can perfectly match the presidential candidate to win the elections come 2023.
This area which has often been overlooked is the non-consideration of the female gender by the party. With the benefit of hindsight as well as drawing from my personal field interactions with women during my campaign as a Senatorial Aspirant and coupled with the views of majority of female aspirants, my honest suggestion and appeal is that a female be considered as the running mate to our candidate to create a sense of inclusion and balance.
Our candidate and leader is known as a man of uncommon wisdom and courage: One who sees farther, better and one with the ability to see beyond bends and corners. The Pathfinder of Lagos can create wider political footprints and usher in another vista in his gigantic political credentials and footages if he gives this suggestion and idea the deserving serious thoughts and considerations.
There is a growing feeling that our women have been neglected in political considerations and balance as if gender equity does not count. The women could attract victory if they form part of the matrix of the presidential team with one of them as running mate to the presidential candidate of the APC.
One may be tempted to ask some salient questions like;
Do we believe in the capacity and competencies of women in this country at all? Are we following the global trends? Should we even be having this conversation at this era?
After over 60 years of independence and over 36 years of democratic rule, no woman in Nigeria has ever been elected in any Governorship and Presidential elections – Why is that so? Nigeria being the giant of Africa, should provide the leadership instead of copying examples and templates of smaller African nations.
Whereas Liberia, Tanzania, Malawi and Ethiopia, all have Africa female heads of government at one time or the other, Nigeria is yet to replicate this, despite her strategic position in ECOWAS. The great example is Madam Ellen Johnson-Sirleaf: The Harvard-trained former president of Liberia who went on to stabilize a war-ravaged nation and literally nursed the nation back to survival.
Her innate abilities were put to task, rather than her gender. Women are natural builders, nurturers and managers who easily do well when saddled with high responsibilities and offices. Thus, the women who have held high offices in Africa have contributed so much to the overall development of their respective countries and to our admirations too.
Rwanda despite her catastrophic and avoidable genocidal atrocities are leading in women inclusion in governance in the areas of legislative operations to the satisfaction of many nations. In Nigeria, we are still moving at snail speed, pacing slowly towards the actualization of 35% affirmative action agreed at the Beijing conference.
Competent women with good pedigree and qualifications abound across the length and breath of this country such that meets our quest for their inclusion in governance. It is a truism that the female proportion of votes cast at all elections across the country form a sizeable share but yet they are not adequately appreciated, motivated and compensated by adequate and equitable representation.
Women are naturally loyal to men as heads in leadership positions. The tempering of political power and high office with a simple human touch and ability to multi-task makes the female gender a great political complement. This unique ability is often overlooked and untapped.
A good example is happening in Kaduna State where Governor Nasir El Rufai and Dr Hadiza Balarabe are working harmoniously and striking a good balance seamlessly.
There is also a growing awareness, though not on a positive note among women of African descent of their long neglect across the globe in democratic governance. It is only proper to recognize their importance and give to Ceaser his dues.
Now is the time for women to be properly recognized, for they have often bore the brunt of all conflicts in African continents. We need to balance the equation of inequitable treatment and poor representation, particularly in political offices. This will encourage more participation in political processes and electioneering. The burden women carry as deputy heads of the families is equal to that of a vice president. She can replicate this on greater scale.
Another undeniable fact remains and that it is *only women who are experienced to discuss the experiences and challenges of their fellow women when it comes to aggregating gender issues and policy formulation that are geared towards providing effective solutions. It is only natural that we address this critical segment to fit into the global trend in democratic practices.
The time is now for us to have a female Vice President Candidate. It is not tomorrow. The level of enthusiasm this topic will generate will be such that it can become the next national topic in the political space and favourably so. This unique and sagacious decision can also be games changing in the political duel ahead. The differentials and pressure points for victory could come from tapping into the opposition's blind spots.
The configuration of voting patterns can be changed drastically and beat the contentions and imaginations of the opposition. This should be given the momentum it deserves.
This is the time for women to fill that slot and deservedly so, when the men seems to be confused as to whom to choose as the Vice Presidential Candidate.
This position is meant to be an eye opener to the top echelon of APC whose responsibility it is to help the presidential candidate in making choices and options of the party in the search for a credible woman that will match the opposition and attract sympathy votes as well as swing votes to outwit the opposition come 2023 presidential election.
It is naturally appropriate to give women that role as an honour in submission to the will of our creator. We would have also honored the memories of our matriarchs and heroines of democracy and nation building. Late madam Magarette Ekpo, Hajia Gambo Sawaba, Hajia Laila Dogonyaro, mama Funmilayo Ransome-Kuti, Kudirat Abiola, Saadat Ahmadu Bello and others too numerous to mention who made enormous sacrifices even to the point of laying down their lives for country and democracy.
Asiwaju should have a female Vice President* to complement his effort at boosting the indices of our performance as a nation. This is not about being politically correct but politically expedient in the face of a political choice that electorates will face.
The opposition is very formidable this time around and APC must do things differently to outwit the opposition with substantial margin. It is a possibility that some eligible female supporters in the opposition may even be swayed by the adoption of this suggestion to cast their votes in honour of a female VP Candidate.
This far from a feminist agenda. It is about doing the right thing to ensure that victory at the polls in 2023 will be a mere walk in the park. Women of colour are evolving in the developed world climbing very fast as they are being considered for offices hitherto considered the exclusive preserve of whites and the male folk.
We saw this happened recently in the last US presidential election following the nomination of VP Kamala Harris. Her inclusion swayed the votes of women in that election. We also had Justice Ketanji Brown who became the first black justice of the US Supreme courts. This has created both awareness and a great incentive for the women to strive for the highest and the best and regards no ceilings and barriers.
Over the years in Nigeria, hundreds of women gather at various political rallies by different parties to demonstrate their support for their male counterparts through advocacy, campaigning and mobilizing others to vote. Beyond that, come election day, they often troop out in great numbers, the elderly and the young, queuing up to cast their ballots for candidates who are mostly male. They do this without bias and put great efforts to ensure the success of others..
Let this time be their payback period in recognition of their worth, sacrifices and competencies. Women in Nigeria are a significant voting block with deciding votes capable of swinging the electoral pendulum.
Out of 84 million registered voters nationwide in the previous national elections, women accounted for over 40 million, this means they make up to 47.14% of total eligible voters which can be a measure to the remarkable increase of women's participation in politics. Despite this, there is a deep-rooted level of under-representation of women in politics when compared to their male counterparts. For such a large political demographics, it leaves much to be desired and evidently too.
With the APC candidate making a woman his running mate, we can be sure of a remarkable upsurge in votes. The nation is in the mood for that. Nigeria is in the mood for new things, new ways and new tastes and ready to discard the old and the familiar.
The most powerful woman in the United Nations is a Nigerian by name, Amina Mohammed. A Nigerian woman heads the World Trade Organization (WTO) – Dr Ngozi Okonjo-Iweala. These two have proven the old but familiar adage that what a man can do, a woman can always do better.
Dr Ngozi Okonjo-Iweala's economic ideas, management skills, leadership acumen and outreach helped to pull back an economy on the brink of collapse to become Africa's biggest. She was basically instrumental to solving Nigeria foreign debt burden of over $28 billion, helping the country to maintain a healthy reserve while attracting foreign direct investments(FDIs). The search for a running mate should not be limited within the confines of the country.
An internal/international search for more women will certainly throw up many to be selected for consideration. The amazons have already shown that women can perform wonderfully well in governance and reshape our country's development as well as complement the the presidential candidate when he assumes office.
Asiwaju BAT and the APC should seize the windows of opportunity of approaching national elections to promote women's participation aggressively through the giant stride of making the nomination of a female running mate a key issue for consideration and debate within the APC.
Why not a woman as Vice Presidential Candidate now? If not now, when? The adoption of this suggestion will change the campaign issues between the two dominant parties. With female VP Candidate, the APC would have significantly changed the narratives.
The ethnic, religious and other primordial sentiments would fade into insignificance in the face of more serious considerations of gender sensitivity, merit and equitable representation. It will be another bonus for the APC.
In the words of the late sage, MKO Abiola of blessed memory, No one claps with only one hand. We need the other hand in the society to be able to clap very well. A nation that has failed to tap into the virtues and abilities of her other gender is a self-depriving nation.
I will humbly suggest that Asiwaju and his team examine and consider these points seeing it from the angle of necessity and its tangible benefits as a winning political strategy.
Contributed by Ramatu Tasalla Shehu Atta
Kogi Central APC Senatorial Aspirant and Retired Registrar General of Abuja Multidoor Court of FCT-High Court.