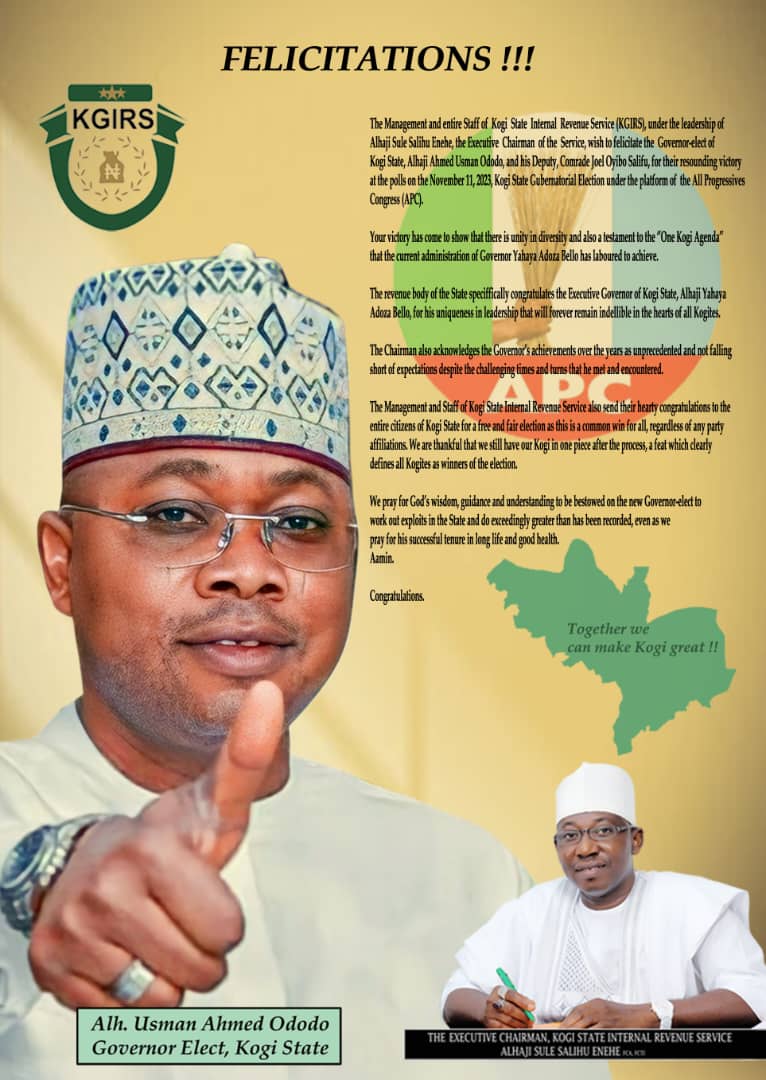 The Vice Chancellor Confluence University of Science and Technology (CUSTECH), Engr. Prof. Salawu Sadiku on Thursday featured as one of the discussants at the Nigeria Union of Journalists (NUJ) Symposium with the theme: A PEEP INTO GOVERNOR YAHAYA BELLO'S SEVEN YEARS IN OFFICE AND IMPLICATIONS FOR FUTURE ADMINISTRATIONS.
According to Balogun Omeiza David Head, Public Relations
CUSTECH, Osara, the event was held at Edge Drive Hotel, Lokoja.
The event which was well attended by the many members of the NUJ also had in attendance the Governor of Kogi State, His Excellency, Alh. Yahaya Bello alongside his entourage.
Engr. Prof. Salawu Sadiku while responding to questions posed to him concerning CUSTECH, Osara said, "I am happy to always submit that CUSTECH is the university with the shortest gestation period across the country. This was made possible by the special attention the governor has placed on the university." He added that, "CUSTECH was not created for cosmetic purposes but that it was founded to follow the template of Science, Technology, Engineering and Mathematics (STEM). He went to say that, "the north central is blessed in the solid minerals and that if our youths are trained in the practical aspect of Engineering and other related field of sciences, it will go a long way to help them to be self employed. The Vice Chancellor shed more light on courses like Medicine, Pharmacy, Nursing and likes that will soon be offered by CUSTECH
"our students will no longer be suffering from the serious admission setbacks as universities in catchment areas now pay more attention to their own state students before giving out few admission slots to students outside their academic domain.
Moving forward, he added that CUSTECH which is progressing speedily as the ivory tower is now having her first set in 300 level and that the new students that were recently admitted were up to 750 in number.
The erudite Vice Chancellor confidently said that, "We are also conscious of the fact that most universities train engineers that are not industrial compliant, that is why CUSTECH is already having a synergy with Dangote Cement Company, Obajana, National Iron Mining Company (NIOMCO), Itakpe and other engineering companies within Kogi State to help place our students for Students Industrial Working Experience Scheme (SIWES). As an institution of higher learning, we are not only grooming our students for jobs but that they should also be job creators.
The NUJ organized symposium was loaded with interesting activities ranging from the Welcome Speech of the NUJ Chairman, Kogi State Comr. Adeiza Momohjimoh and the Symposium Lecture delivered by Mr. Emmanuel Okoliko, a lecturer with the National Open University of Nigeria (NOUN). The National President of NUJ Chief Chris Isiguzo (OFR) also gave a heart warming speech which urged Journalists to pick their pens and white that which will bring succour to the masses especially now that we are approaching the season of elections in Nigeria.
His Excellency, Alh. Yahaya Bello, the Governor of Kogi State appreciated the Kogi State Council of the NUJ for giving a perfect and convincing reportage of the many dividends of democracy his administration has been able to dish out to the citizens of Kogi State.