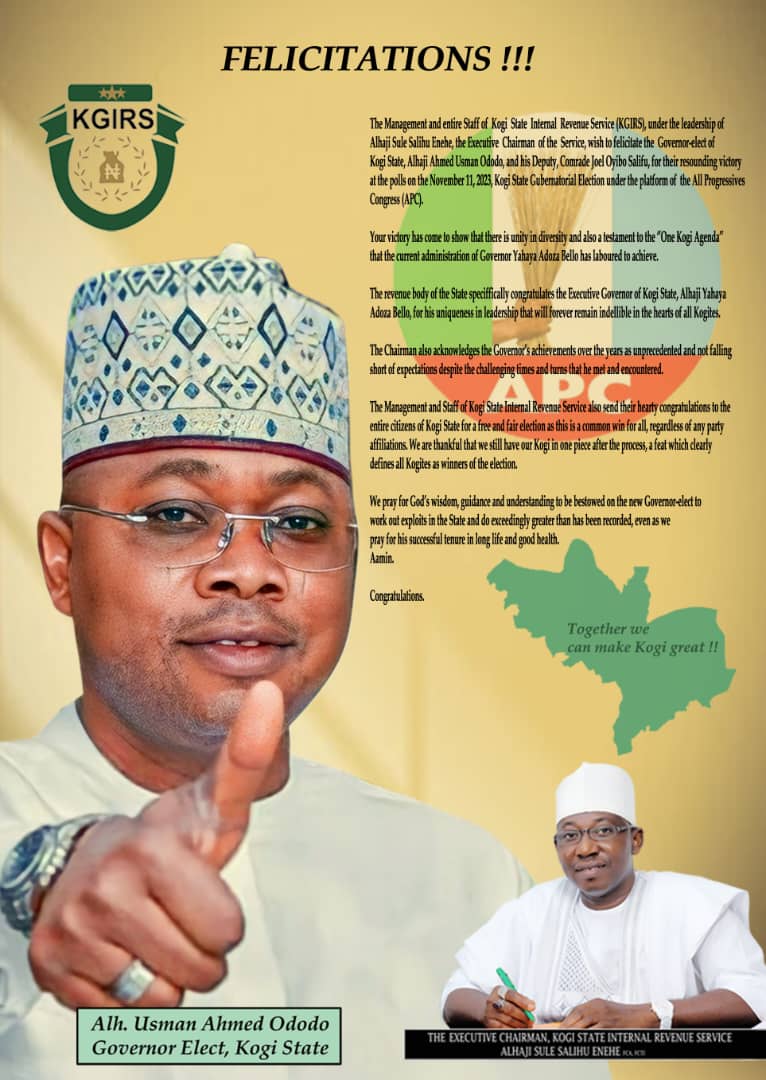 Prince Shaibu Abubakar Audu, one of the aspirants of the All Progressives Congress in the direct primary election held in Kogi State on April 14, 2023, has withdrawn the lawsuit he instituted against the party and the winner of the primary, Usman Ododo.
Audu, son of late former Governor Abubakar Audu, said his decision to withdraw the case was in the interest of the party.
He spoke on Tuesday when he visited Governor Yahaya Bello in Abuja.
He said this just as the immediate past Executive Director of the Rural Electrification Agency and Governorship aspirant on the platform of the APC, Sanusi Ohiare, also declared "unalloyed support" for Ododo on Tuesday.
The duo had initially protested the outcome of the primaries along with Senator Smart Adeyemi, but with their full support for the candidate currently, they might have indicated that Adeyemi is on his own.
Audu pledged his support for the success of Ododo, the party's candidate, in the forthcoming elections, saying that his supporters would also work for his victory.
He commended Governor Yahaya Bello for his ingenuity and leadership in galvanising the party structure for unprecedented success in Kogi State and assured the governor that their collective efforts would guarantee Ododo's victory.
Governor Bello, in turn, commended Shaibu Audu for his sportsmanship and emphasized that the APC in Kogi State had always been united, which had been the reason for the party's electoral success in the state.
He added that his administration had gained the trust of Kogi residents, adding that there would be no need to switch allegiance.
The Governor urged Shaibu and other former aspirants to come together with the party's leadership and support its candidate for a successful outcome in the next elections.
During his brief remarks, the APC gubernatorial candidate, Ododo Ahmed Usman, expressed his confidence in the party's unity.
He acknowledged the solid foundation laid by the current administration, which was built on unity across ethnic and religious lines, while assuring that his administration, when elected, would be all-inclusive.
The immediate past Executive Director of the Rural Electrification Agency and Governorship aspirant on the platform of the All Progressives Congress, Dr Sanusi Ohiare, declared his "unalloyed support" for the Governorship candidate when Ododo paid a consultative visit to his father, Sen. Mohammed Ohiare in Abuja on Tuesday.
"For us, politics is not a do or die affair. Alh. Ododo has won the primary and I will give him my full support. My dad was one of the founding fathers of the APC, we won't do anything to jeopardize the chances of our own party," Ohiare said.
On his part, Senator Mohammed Ohiare assured the candidate of his support in the November 11 Governorship Poll, calling on all members of the party to give Ododo the needed support to emerge victorious.