The National Orientation Agency (NOA) has charged Nigerians to imbibed the national core values into their daily affairs in order to move the country forward.
Director General , NOA Dr Garba Abari gave the charge on Monday during the inauguration of NYSC/NOA CDS Sub group on core values organized by the agency in collaboration with generation for societal change and the National Youth Service Corps in Lokoja, Kogi state.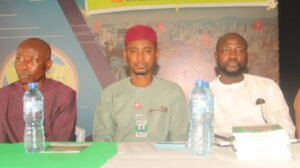 Abari who was represented by a deputy director in the department of political, civic, ethics and core values NOA headquarters Mr Emeka Egbugara lamented that the level of moral decadence in the society today has become a source of worries to government.
He said that as government agency saddled with the responsibility of propagating government policies and programmes, the inauguration of the NYSC/NOA CDS sub group to champion the core value becomes sacrosanct in order to change the narratives for better and to the admiration of international communities.
"After the inauguration the corp members will assist us to propagate the seven core values as enshrined in the constitution which are religion tolerance, discipline, integrity, social justice, dignity of labour, self reliance and patrotism.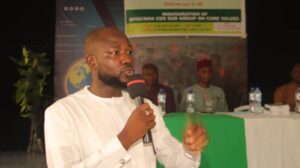 "Through this outreach programme many Nigerians who are not aware of the existing of core values will be reach to change the narratives for better because if we want the country to move forward we have to imbibed the core values into our day-to-day activities in our homes, offices, schools , markets among others" he said.
Earlier, the deputy director Mr Patrick Edogbanya NOA Kogi state in his welcome address, said the inauguration of Kogi chapter of NOA CDS Sub Group meant to intensify the campaigns and reorientation of national core values among Nigerians as entrenched in nation's constitution.
He described the national core values of Nigeria as cardinal to the development of good moral behaviour in the society, noting that "when the attitude of Nigerian needs reengineering through proper reorientation, it is better to engage the youth and catching them young to bring the much-desired solution to moral decadence in the society"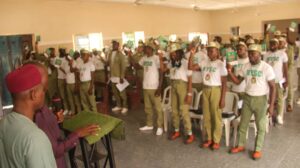 In his remark , the coordinator Generation for Society Change, Kogi State , Mr Lawrence Huleji called on every Nigerians to put their little effort to get the society out of where it is currently in term of moral decadence and lack of adherence to ethical values.
He described values as the foundation of the society and urged government to entrenched the national moral values on the citizens of the country, noting that the programme was aimed at getting Nigerians to know that values is the next thing that should be adopted.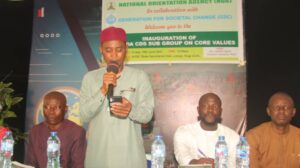 He assured that his organization would continue to partner with NOA and other relevant stakeholders in ensuring that the national values which is being entrenched in the constitution known to every Nigerians at the grassroots.