Ahead of November 11 governorship election in Kogi state, Ebira Dialogue Group in continuation of it's sensitisation and mobilisation visit to selected individuals, associations and organisations across Ebira land, members of the group were on Tuesday 18th July , 2023  at the palace of Taru, the Esema of Ezuka for the exercise.
At the palace, the group held meeting and dialogue with Taru, Asema Ezuka, H.R.H, Mallam Nasiru Momoh and some people from his clan that suffered some weeks in detention few years  ago as a result of some disturbances in Ogaminana, that was allegedly caused by them.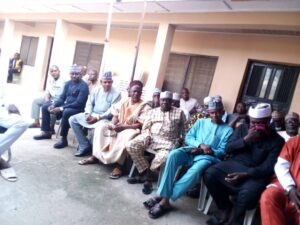 Even though the case has since ended officially, it is believed that victims of the arrest and detention still nurse some grudges against the system, hence the visit of Ebira Dialogue Group to the victims.
In his speech, the  leader of Ebira Dialogue Group  Prof. H.I. Jimoh explained that members of the group were at the palace to dialogue with the traditional ruler and other victims of the detention, in order for the victims to agree to finally put the issue behind them and join hands to move Ebira land forward.
Responding, the Asema Uka Clan, His Royal Highness, Mallam Nasiru Momoh, heartily welcomed the group and expressed appreciation for their immense concern.
The traditional ruler who gave a brief history of Ebira land, especially as regards the existing bond between Ebira and her neighbours, prayed for the continued peace, unity and progress of the land.
The royal father who expressed his innocence over the crisis that led to his unfortunate detention, assured that he has since put the matter behind.
Others who spoke on behalf of the victims of the detention expressed their innocence, complained of  the trauma suffered and pledged to put the matter behind in the interest of peace and progress of Ebira land.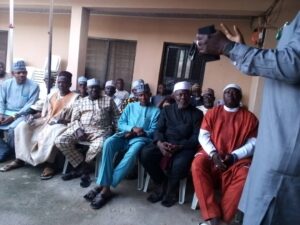 Responding on behalf of Ebira Dialogue Group, Pharmacist Idris Bello took enough time to discuss and appease the minds of the victims and promised that something will be done to address the effects of their detention.
He appealed to them on the need to solidly support Alhaji Usman Ododo's governorship project.
The group then proceeded to the palace of Ohi of Okengwe where they held a very fruitful meeting with over 100 traditional rulers/clan heads drawn from across Ebira land.
At the meeting, the leader of Ebira Dialogue Group addressed the traditional rulers on the need to help sensitize their subjects on the on-going Ebira political project.
In their various responses, the traditional rulers expressed happiness with the laudable role of the group, prayed for them and the success of Ododo's project.
Earlier, members of the group visited notable Ebiras leaders, like Major Abdullahi Aliyu Hitler (rtd), Hon. Enesi Jimoh and Alhaji Abubakar Umar. L.O, to dialogue with them on the need for them to key into the Ebira project which they readily promised to do.