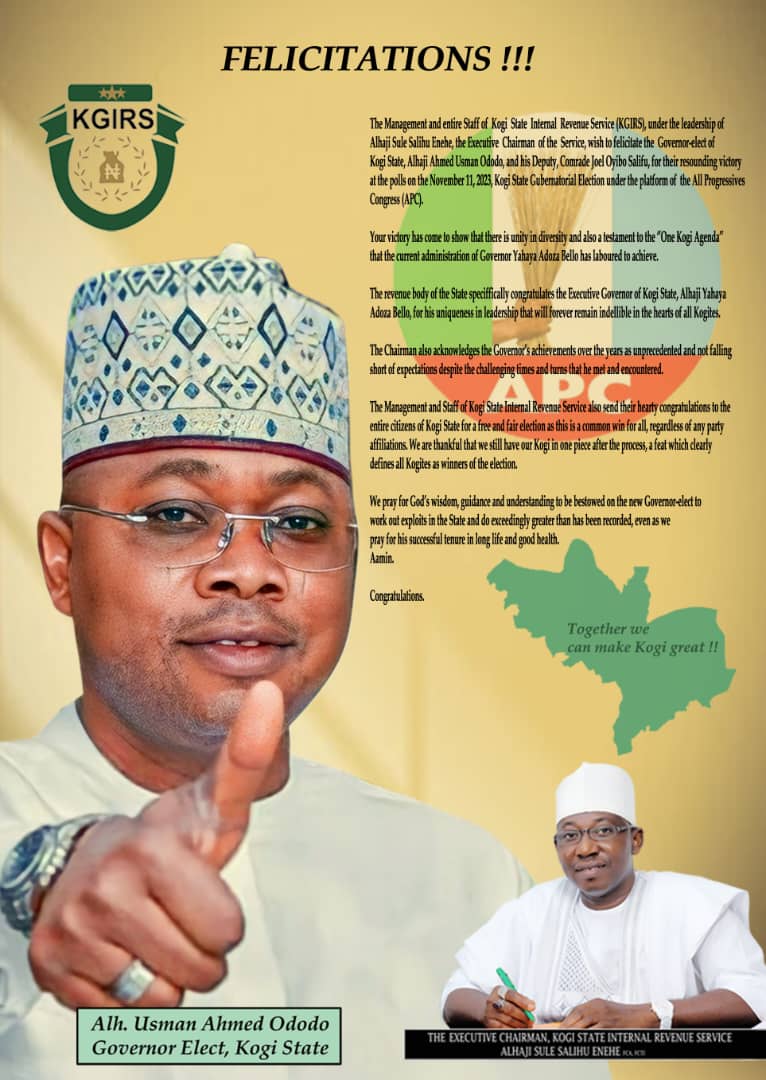 Ahead of the awaiting November 11, 2023 governorship election in Kogi State, the Ofu Local Government chapter of the All Progressives Congress (APC) in Kogi State has welcomed over 5000 new members into its fold.
A former chieftain of the Peoples Democratic Party, Hon. Oduh Akowe, along with his supporters from PDP, SDP and NNPP, were, on Tuesday evening, received into the party at the Ofu Local Government Secretariat Ugwolawo.
The event was graced by high-profile politicians such as the APC Deputy Governorship Candidate, Elder Joel Salifu Oyibo; Kogi East Zonal Chairman of APC, Hon. Muhammed Nasiru Alfa; Senator representing Kogi East, Isah Jibrin Echocho; House of Representatives member for Idah Federal Constituency, Rt. Hon. David Idris Zacharias; and Kogi State House of Assembly member for Ofu State constituency, Hon. Seidu Shehu Amodu, among others.
The Zonal Chairman of the party, Alfa who welcomed the new members assured them that they would be fully integrated and given equal opportunity to contribute to the growth and development of the party.
He said as the 2023 governorship elections in the state continued to gather momentum, the Ofu APC, which had continued to gain new members every day, was positioning itself for a successful outing.
The party leader emphasised that the new members had joined a progressive and inclusive party "that is committed to improving the lives of all Kogi State citizens."
He urged them to actively participate in the party's activities and work towards achieving its goals.
"I enjoin all loyalists to shun tribal sentiments. Such ventures cannot win modern-day elections in Nigeria," he said.
Senator Isah Jibrin welcomed the new members into APC while encouraging them to work hard towards ensuring victory in upcoming elections.
"The Kogi APC, under Governor Yahaya Bello, rewards hard work. The APC candidate, Alhaji Usman Ododo, when elected, will ensure that everyone who delivers is adequately rewarded," he said.
On his part, the House of Representatives member, Idah Federal Constituency, Hon. David Zacharias, emphasised that APC was always ready to emerge victorious in any election "as its membership is rooted in all parts of the state."
He charged all party faithful to remain steadfast and committed towards achieving success for the party to seal its wining streak for the election year.
In a similar vein, Council Chairman for Dekina Local Government, Hon. Ishaq Okolo, enjoined people from the area to go home and canvass support for the party ahead of the November poll while congratulating the decampees.
Leader of the decampees, Hon. Oduh Akowe, expressed his gratitude to the Ofu APC for welcoming him and his supporters into their fold.
He pledged his loyalty and commitment to the party, adding that he believes in its ideology and vision for Kogi State.
The event ended on a high note with the new members expressing their excitement at joining the Ofu APC and their determination to work towards ensuring victory for the party in the upcoming Governorship election.