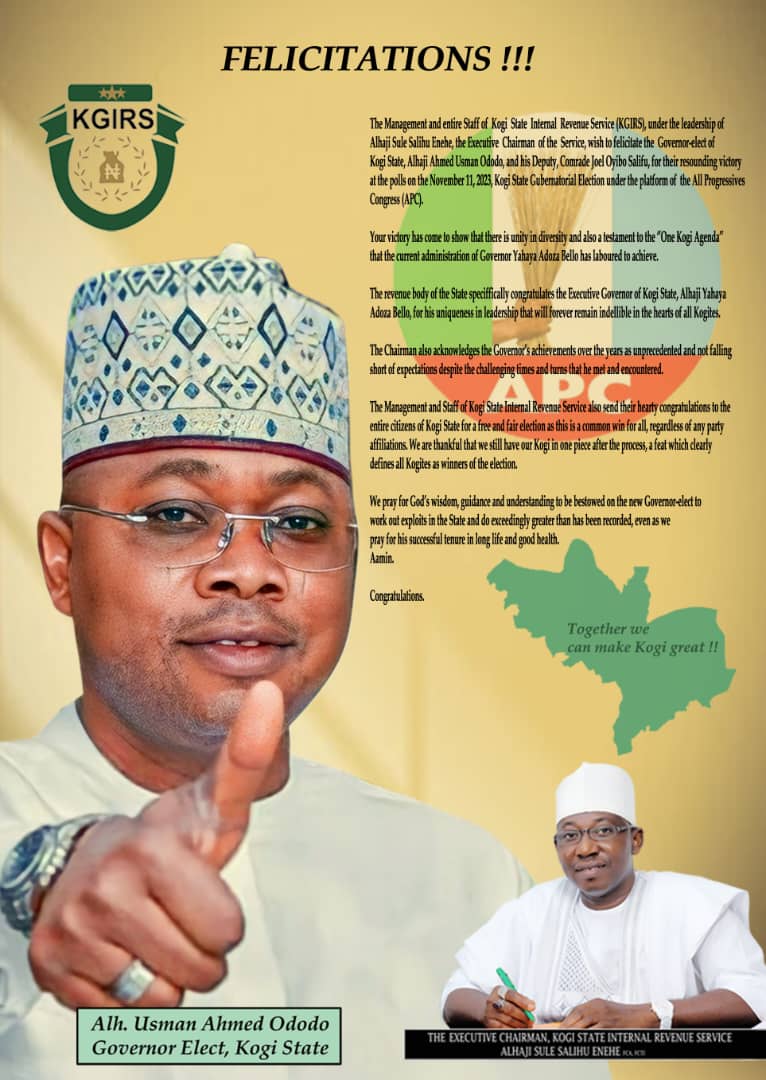 A chieftain of the ruling All Progressives Congress (APC) and a former Governorship aspirant, HE, Adebanji David Jimoh has said that in the event of considering all options to choose who will lead the people of Kogi in another four years, the APC Governorship candidate, Alhaji Ahmed Usman Ododo remains the best option for Kogites.
Jimoh , a seasoned banker turn politician made the submission while speaking with newsmen in Lokoja ahead the November 11 Kogi state Governorship election.
He stressed that Kogites have no reason not to vote for the APC Governorship candidate, considering the fact that Governor Yahaha Bello's remarkable and human oriented projects are seen across the nooks and crannies of Kogi state.
The former governorship aspirant , pointed out that Alhaji Ahmed Usman Ododo would sustain the legacy of Governor Yahaha Bello when elected Governor of Kogi state.
"Let me tell you, truth be told, kogites have never had it so good as we are having today. The rice mills at Ejiba in Yagba West, the Kogi State University, Kabba, Modern General Hospital project in Isanlu, Kabba township roads, GYB model Science Secondary School in Kabba/Bunu Local Government Area, Modern General Hospital project in Gegu Beki and other verifiable projects across the Senatorial district are there for the people to vote for APC's Ododo for continuity and Sustainability.
"In Kogi East Senatorial district, the Prince Abubakar Audu Teaching Hospital, Idah township roads, Anyingba township roads, Ankpa township roads, operation light up Kogi Eastern Senatorial district, reconstruction and renovation of projects at state College of Education, Ankpa, Okpo-Olamaboro road project, among other projects are there as testimony and sufficient reason for the people of Kogi East Senatorial district should vote for APC's Ododo for continuity and Sustainability.
"In the Kogi Central Senatorial district, we have the Confluence university of Science And Technology, Osara, Kogi state Reference Hospital in Okene, Expansion/Reticulation of Okene waterworks project, modern General Hospital project, Eganyi, Rehabilitation and construction of General Hospital, Okene, Okene township roads, Ihima-Adavi Eba Okengwe roads, among other projects are there for Kogi Central Senatorial district to vote Massively For APC's Ododo for continuity and Sustainability.
"The Governor has done well in Lokoja, the state capital. He constructed Kogi Revenue House, Lokoja, Mohammadu Buhari Civic Centre, Lokoja, Ganaja Junction Fly-Over, Lokoja, GYB Model Science Secondary School project, Lokoja, building of Government House Chapel and Government House Jumaat mosque, go to Kogi state polytechnic. The Governor has done well and the people should reciprocate on Saturday by voting Massively for Ahmed Usman Ododo so that we can continue to enjoy more gains of democracy in Kogi state.
"I want to appeal to kogites not to be deceived by the antics of some people who have nothing to offer them but to come and protect their selfish interest even above public interest.
"The APC Governorship candidate has the capacity, connection, experience, exposure and wisdom to lead Kogi state to a great level. Let us vote for APC for a prosperous Kogi state of our dream.