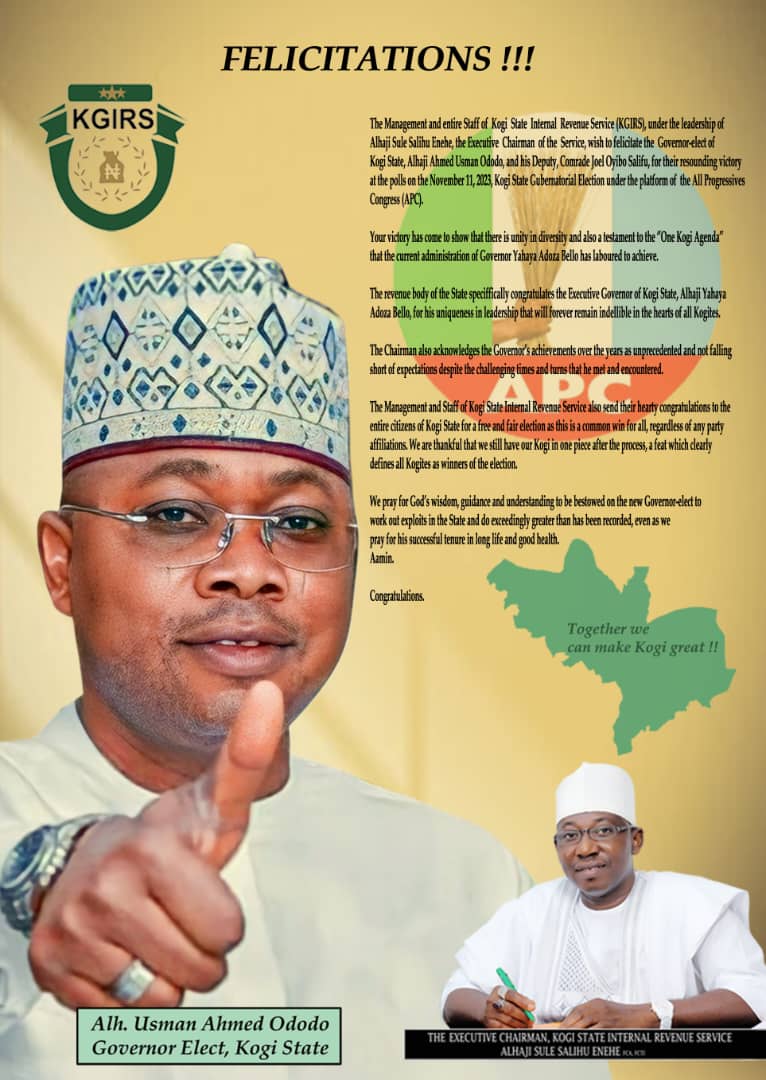 Chairman of Kogi Local Government Service Commission, Alhaji Adams Adabenege, FCNA has congratulated Kogi State Governor-Elect, Alhaji Ododo Ahmed Usman on his recent victory at the polls.
This was contained in a press statement signed and made available to newsmen in Lokoja wherein Hon. Adams noted that the All Progressives Congress (APC) in the state presented one of its best to compete with candidates other political parties that jostled for the coveted seat.
"The people of Kogi State have spoken unequivocally by giving a whooping sum of 446,237 votes to Alhaji Ododo Ahmed Usman which made him to be declared by the Independent National Electoral Commission (INEC) as winner, having satisfied other requirements and guidelines of the electoral processes.
"It was a deserving victory because amongst others that jostled for governorship, Alhaji Ododo depicted a leader who is ready to advance the development of Kogi State to an enviable height through a well-thought-out manifesto", he said.
While calling on the people especially members of the opposition parties to join hands with Governor Yahaya Bello and the Governor-Elect, Alhaji Ododo Ahmed Usman to advance the course of the state, the Local Government Service Commission boss expressed optimism that the firm foundation being laid by the New Direction administration would not be deviated from.
He specifically commended Kogi State Governor, His Excellency Alhaji Yahaya Bello for providing conducive environment for all political parties to engage in their respective campaign activities leading to the election, adding that Governor Yahaya Bello is indeed a hero of modern democracy.
Consequently, Alhaji Adams Adabenege eulogized the electoral umpire, the Independent National Electoral Commission; security operatives and election observers for being topnotch in their conduct during and after the election.
"May Almighty Allah grant the incoming Governor, Alhaji Ododo Ahmed Usman the needed sound health and wisdom to pilot the affairs of the state", he prayed.