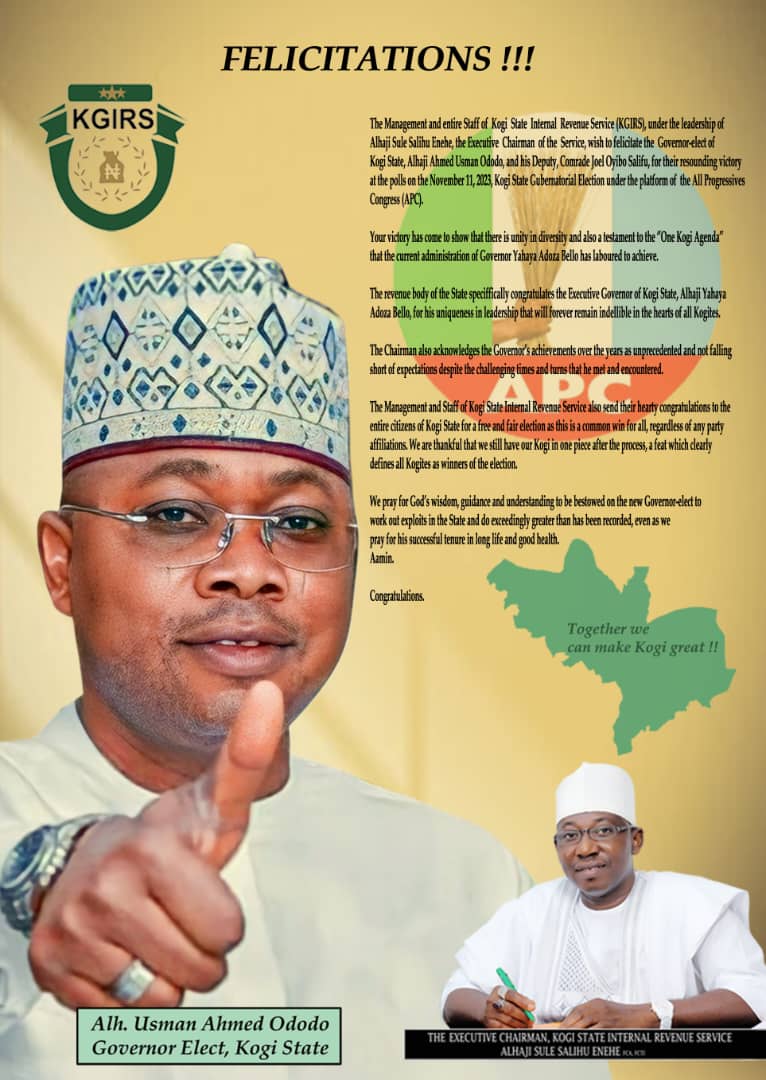 The Kogi Agenda United Progressive Political Parties, Kogi State has commended the Independent National Electoral Commission (INEC) for the conduct of the most freest , peaceful, credible and transparent governorship election in the state.
Chairman of the group, Alhaji Idirisu Bala gave the commendation at a press conference held in Lokoja on Monday.
He stated that the November 11, 2023 governorship election in Kogi state complied substantially with the electoral laws, noting that the INEC adhered strictly to the electoral guideline s as amended.
He maintained that the last Saturday election in Kogi state was devoid of any iota of sentiments, agenda sitting or ethnicity, saying that INEC announced the result after due deligent collation of results from all local government areas of Kogi State.
"We make bold to say that this election is free, fair and credible and therefore acceptable to us" he said.
While appealing to APC the winner of the election to be magnanimous in victory by demonstrating the policy of all inclusive governance as examplified by president President Bola Ahmed Tinubu, Alhaji Bala urged the winner of the election Alhaji Ahmed Usman Ododo to extend a hand of fellowship to all the contestants who participated in the governorship election for the development of the state.
"We salute all our security agencies standing tall in your assignment for neutrality in the monitoring of this election devoid of intimidation, conspiracy with any arm of the ruling power to pervade injustice, without you democracy can not thrive, congratulations for this show of professionalism.
"Our passionate appeal is to all the stakeholders that participated in the quest to rule the state to please exercise restraints for the peace of kogites, since without peace, there's no development.
"We appeal to Governor elect Alh Ahmed Usman Ododo to build on uniting the state where section of the three senatorial districts are treated fairly without any iorta of sentiments, "united we stand and divided we fall" your mandate is consolidation and discovering new grounds for posterity" he stated.
The group is made up of progressive political parties in the state that believes in progressivism, whose aims and objectives is to see kogi agenda thrive in respective of political party affiliation.
End