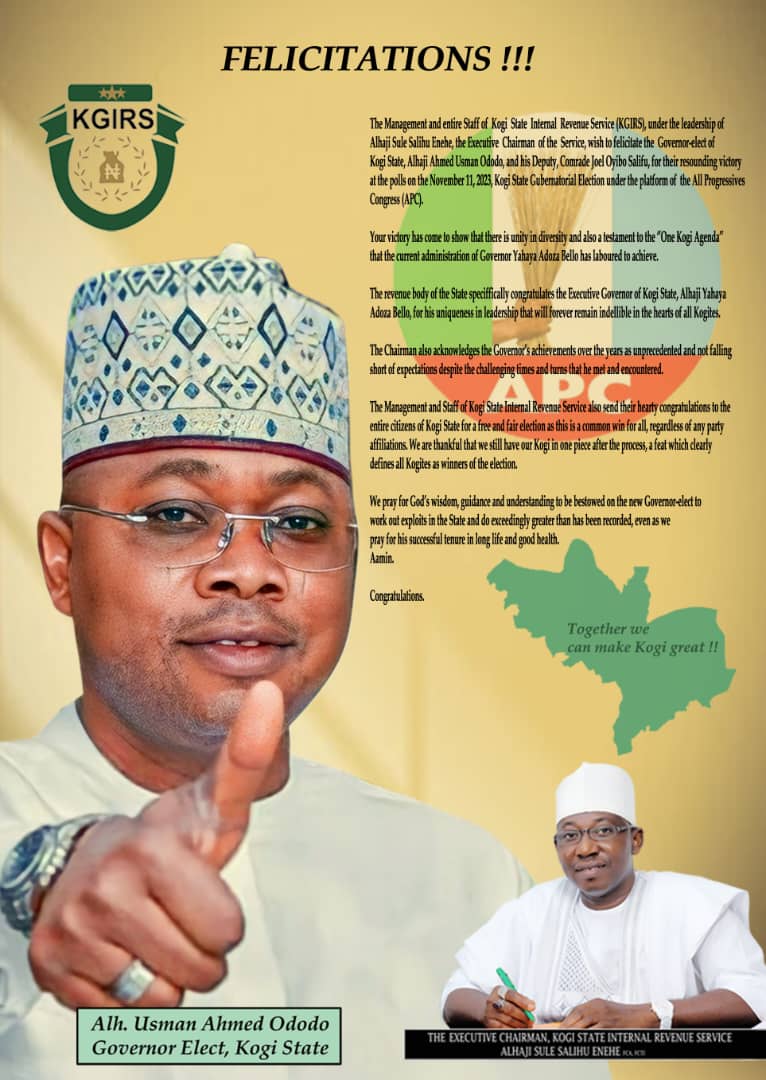 Re-2023: Kabba Community Won't Succumb to 2nd Class Representation, Declares Kogi Speaker A Slave
………No Amount of Efforts to cause communal crisis in Kabba, Destroy Kolawole's Political Reputation Will Work
Efforts to cause communal crisis in Kabba community and destroy Rt. Hon. (Prince) Matthew Kolawole's Political Reputation Cannot Work
Our attention has been drawn to a malicious and mischievous write up published by some online blogs orchestrated to cause mayhem in Kabba community and also to destroy the political reputation of the member representing Kabba/Bunu State Constituency and Speaker of the Kogi State House of Assembly, Rt. Hon. (Prince) Matthew Kolawole.
Dignifying the baseless publication which has no author with any response wouldn't have been necessary if not for the need to expose the mischief of some desperate individuals who have lost touch with the reality of things in the Kabba community and the giant efforts of the Speaker in providing qualitative representation at the state level.
Politics they say is a game of interests irrespective of tribe, religion or clan as the case maybe. For anyone to be ascribing clannish sentiments to electoral victory in Kabba/Bunu Local Government Area is delusional. Those engaged in this campaign of calumny have forgotten that Rt. Hon. (Prince) Matthew Kolawole is the first Kabba-Bunu State Assembly member to have won elections back to back in 2015 and 2019 general elections; a feat achieved through quality representation.
Irrespective of the illogical sentiments expressed by these naysayers, his performances has made him break so many records in Kabba/Bunu political landscape yet unequalled since Kogi State was created in 1991.
The Speaker is yet to declare any intention to contest for the position of Kabba/Bunu/Ijumu Federal Constituency come 2023 but rather more committed to his constitutional responsibility of making laws that will promote good governance in Kogi State and also to provide the right leadership for the 7th Assembly.
It is therefore disheartening and unheard of for some persons to want to continue to live on primordial sentiments that are capable of slowing down the progress of the community just to settle scores.
Those behind the write-up are only jittery of the rising political profile of Rt. Hon. (Prince) Matthew Kolawole, hence they have no option other than to resort to blackmailing and name calling to attract undue sympathy from their co-travelers.
These rabble-rousers should note that hate is not a stock or equity they must own a piece of. Because, though it pays dividends but only in destruction. It is an open secret that clannish issue is no longer sellable in Kabba community, hence those behind the baseless write-up are advised to engage in productive ventures, as the Honorable Speaker is not bothered but more focused to deliver on his mandate by facilitating more developmental projects to the constituency.
The good people of Kabba-Bunu Constituency are urged to remain calm and law abiding as God will continue to expose those behind efforts that are capable of destroying our community.
Signed:
Femi Olugbemi, Chief Press Secretary to the Honourable Speaker, Kogi State House of Assembly