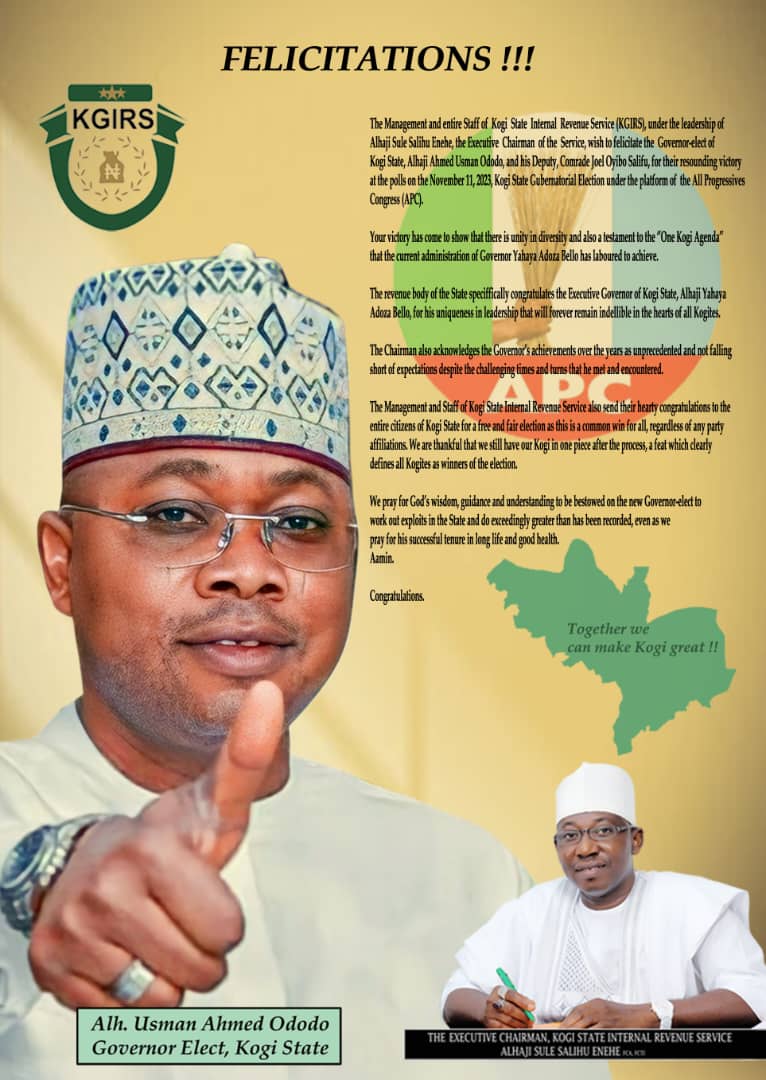 The Chief Judge of Kogi state, Hon. Justice Richard Olorunju Olorunfemi, has advised a newly sworn-in Notary Public in the state, Barrister Yakubu Shuaibu, to inject humanity into his professionalism stating that his "pen must have a human face" in the discharge of his duties.
The Hon. CJ who administered the oath of Notary Public on the renowned lawyer at the headquarters of Kogi Sate Judiciary, Lokoja, on Thursday thanked the Chief Justice of Nigeria, Hon. Justice Tanko Muhammed, for finding another indigene of Kogi State worthy of the appointment.
He celebrated the appointee whom he said he had known for a long time and was sure would not disappoint in carrying out his duties as a Notary Public while also wishing him best of luck.
"Having known you for sometimes, because during the time I was in Obangede for about 14 years, you appeared before me. I know your pedigree and I believe definitely you will deliver as a Notary Public and you will not disappoint us" he said.
Barr. Yakubu Shuaibu was born on 18th May, 1975 to the family of late Alhaji Yakubu Adeiza and hails from Okuhapa, Obangede in Okehi LGA of Kogi state. He is a renowned lawyer whose professional experience spans the vast area of litigation and property law practice.
Upon the successful completion of his NYSC program in 2007, he joined Abdullahi Aliyu & Co where he was involved in active litigation before establishing his own law firm of Yakubu Shaibu Law House of Okene, Kogi state where he practices presently. He has, over his 15 years of active legal practice, conducted and won serious contestable and epochal cases in all the superior courts of record in Nigeria up to the apex court of the land.
He has served as the General Secretary and Vice Chairman of Okene branch of the Nigerian Bar Association at different times. He received the Nigerian Leadership Award in 2018 from the Rotary International for his outstanding leadership performance.
In his vote of thanks, he thanked God for propelling him to where he found himself at the moment; appreciated the Chief Justice of Nigeria for appointing him; thankful to the Chief Judge of Kogi State for administering the oath on him and was grateful to the Hon.
Commissioner for Justice and Attorney-General of the state, Hon. Ibrahim Sani Muhammed SAN, who was represented by the Solicitor-General, Mrs. Hauwa Yusuf, for finding time to attend the event while as well praying for everyone.
"My lords, I know you are all seriously committed but you were able to find time to grace this occasion. May Almighty Allah continue to guide and protect you and endow you with more wisdom to be able to dispense more justice" he said.
Others present at the event were the President of the Customary Court of Appeal of Kogi State, Hon. Justice SMJ Usman, Judges of the High Court of Justice of Kogi state as well as the Chief Registrar of the court and his other management members.