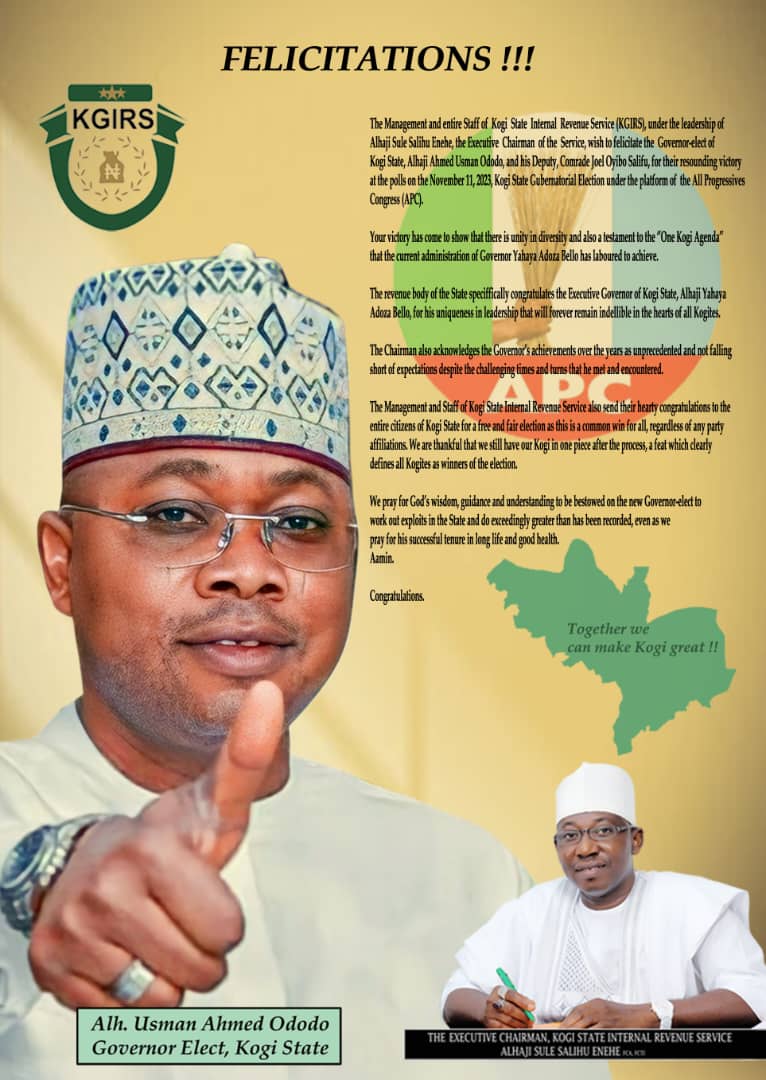 The President, Enemona Humanitarian Foundation, Ambassador Gabriel Onoja has called on well meaning Igala sons and daughters to come home and invest in mining in order to create wealth, generate jobs and eradicate poverty among the people of the land.
He expressed optimism that the peace many people have been preaching and yearning for, in Igala land will soon be a thing of the past.
Speaking on Saturday in Abuja during the 9th edition of Arise Igala Leadership Awards and Lecture which he was one of the recipients, Ambassador Onoja said God had already blessed Igala land with a lot of mineral resources, noting that the ability of well meaning individuals from the kingdom to harness the abundant resources will pave room for the desired development.
"We all knows that Igala land is blessed with indices of development, regrettably most of our rich men and women have refused to take the advantage of the mineral resources we have to invest so that the land can develop.
"We can not attained the desired peace we all clave for until we are able to reduce the high rate of poverty in the land. You can not stop a young man from committing crime when you refused to impact positively on his life. That is why I have chosen to invest vigorously on human capital development through our numerous empowernment programme via Enemona Josh Humanitarian Foundation" he said.
Ambassador Gabriel Onoja who expressed optimism that the peace and unity would be achieved very soon , appealed to politicians to love one another in the interest of the land.
"A situation where every body wanted to be governor, senator or House of Representative member at all cost it will not promote the peace and unity the people are yearning for. It is time for Igala people to speak with one voice" he pleaded.
While appreciating Arise Igala Leadership Awards for bestowing on him the prestigious Arise Igala humanitarian award, the philanthropist said the award has posed a challenge to him to do more for humanity.
He added that if such reputable organization can recognised the little he has been doing to uplift the youth, widow and orphans from abject poverty, the award would spur him redouble his effort in ensuring that more less privilege in the society benefit from his humanitarian services.
"In the past three years I have been able to bring some developments to our land through my foundation, Enemona Humanitarian Foundation. We are able to empowerment youths, widow, orphans and we also engaged youth in artisanal mining at various sites in Kogi State.
"Before the end of September 2022, my foundation will offer one hundred percent scholarship to over one thousand children in Inele Ugoh community to study free of charge at primary and secondary school level.
"We will enroll and give them free books, uniforms, sandals, games and compound wears and possible a school bus. We shall recruit teachers in relevant subject areas which the foundation will pay and motivate them to stay" he stated.
The convener of the event, Mr James Okpanachi Onoja in his welcome address disclosed that the purpose of the leadership awards which commenced in 2014 was to recognize selfless service among Igala sons and daughters to motivate them to do more for Igala nation.
He thank the dignitaries who are able to honour the invitation and also charged the recipients of the 2022 award not to relent in the effort to do more for humanity.