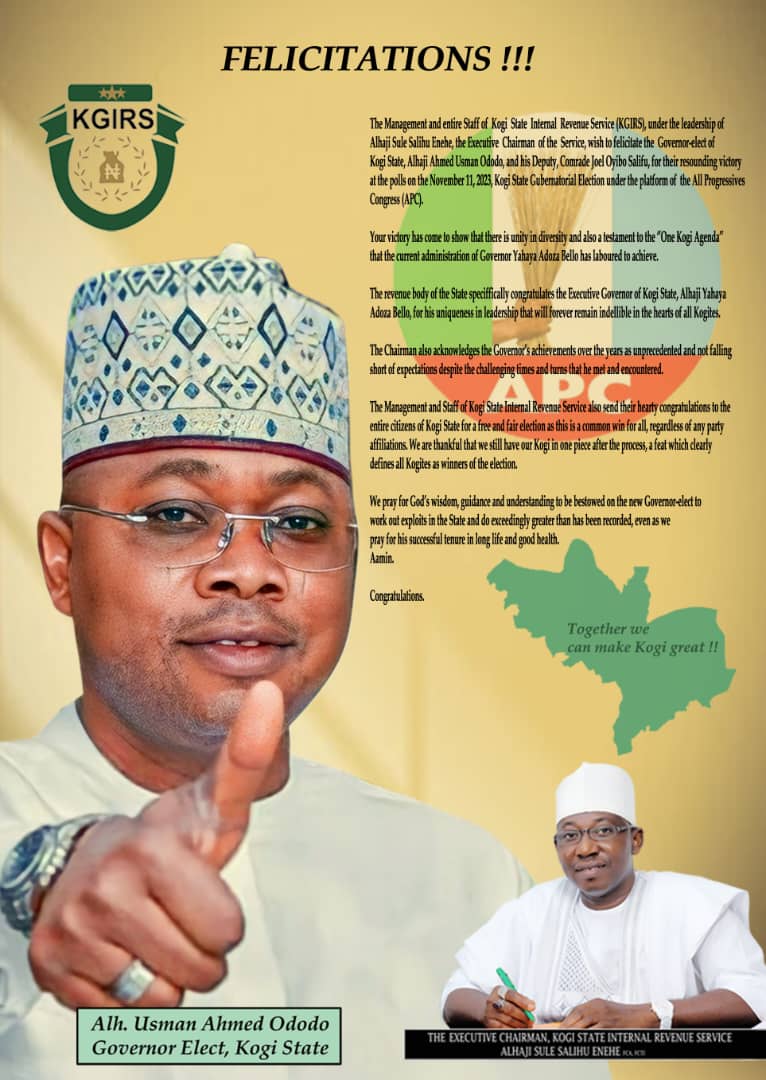 Professor Archbishop David Irefin is a disciple of Leader Olumba Olumba Obu and the international Chairman Christ Universal Missionary Crusade Fellowship for the Brotherhood of the Cross and Star. In this interview with OYIBO SALIHU in Lokoja , Kogi State, Professor Irefin a renowned Economist spoke extensively on reasons why the world is currently facing challenges.
EXCERPT :
Why is the world like this?
I acknowledge the Supernatural Teacher, the Holy Spirit personified, The Sole Spiritual Head of the Universe, Leader Olumba Olumba Obu who authors the Everlasting Gospel in which the contents of this interview is drawn from. I thank Him, for His coming is the fulfillment of father Adam's prayer, that requests Father God to make a return back to man.
From the Everlasting Gospel of Leader Olumba Olumba Obu, it is clear that what we are witnessing today is as a result of the practice of retaliation and vengeance by members of the human family.
Politicians, religious leaders and their followers keep on ill-treating their fellow Man, obstructing their progress and doing all sorts of evil to them. The current practice in the world is a clear indication of a house divided against itself which leads to doom and destruction. For example the so called free world, Russia, China, Governments organized along religious line and their followers are all involved in the practice of retaliation and vengeance. This is a situation of a kettle calling a pot black.
The truth is that the current organization and practice of governments, and religions in our world makes every person wanted before God. A situation where every person lusts after materialism and engages in quarrelling, definitely destruction will be their end.
The practice whereby, Politicians, Religious leaders and their followers are in the habit of inputting sins against other people without searching themselves if they are free from sins. The Holy Spirit is asking the inhabitants of the world why they count sins on others while they are full of sins? Those who judge others for breaking the law are you sure you are free from the law? Remember there is nothing as good as forgiving one another, if you desire to be in peace and joy.
With all the effort people put in religion day and night , how comes the world is still passing through precarious situation?
The various religions and their followers have refused to remain one with each other to foster peace, prosperity and unity. The contradiction in religions where people are allowed to hate, discriminate and humiliate their fellow human beings cannot but lead to chaos, confusion, crisis, destruction and death.
Religions leaders and their followers have failed to know that this is not the time for anyone to go about seeking for money, wife, husband, children or any material thing. This is God's own time for His service and for the manifestation of His kingdom, Daniel 2:44, "And in the days of these kings shall the God of heaven set up a kingdom, which shall never be destroyed: and the kingdom shall not be left to other people, but it shall break in pieces and consume all these kingdoms, and it shall stand for ever".
This is the time to seek for only the living and Mighty God in the name of Our Lord Jesus Christ, Amen.
The truth is that God has manifested in human form and now dwells amongst us in fulfillment of the scriptures, Isaiah 2:2-5, "And it shall come to pass in the last days, that the mountain of the LORD'S house shall be established in the top of the mountains, and shall be exalted above the hills; and all nations shall flow unto it.
"And many people shall go and say, Come ye, and let us go up to the mountain of the LORD, to the house of the God of Jacob; and he will teach us of his ways, and we will walk in his paths: for out of Zion shall go forth the law, and the word of the LORD from Jerusalem".
"And he shall judge among the nations, and shall rebuke many people: and they shall beat their swords into plowshares, and their spears into pruninghooks: nation shall not lift up sword against nation, neither shall they learn war any more".
"O house of Jacob, come ye, and let us walk in the light of the LORD".
If He has not come the entire human race would have perished. Accordingly, Our Lord Jesus Christ said "all those who came before Him are thieves and robbers and that is why the sheep did not listen to them or else what will you offer as explanation to the crisis in religion and politics? This is a situation where there are churches and mosques everywhere at least in Nigeria but suffering, insecurity, and death is the result thereof. If what Nigerians are experiencing are the reward for being faithful to God then what will be the reward for those who disobey Him?
Instead of the religious leaders to love and teach their followers to do same, they rather mislead them by teaching them to hate, discriminate and even judge others "Recall that the scripture has it in Roman 2:1. "Therefore thou art inexcusable, O man, whosoever thou art that judgest: for wherein thou judgest another, thou condemnest thyself; for thou that judgest doest the same things". You who judge others for breaking the law, do you have something to say to defend yourself? You call yourself a Chief, a King, Governor, President, Pastor, Iman yet you have concoctions, talisman and indulges in fornication and adultery, do you have any excuse to be free from the great judgment of God?
What is His Holiness Olumba Olumba Obu's message to the world?
His Holiness Olumba Olumba Obu, The King of Kings and the Lord of lords says He has come to give us peace and joy which have eluded man since Father Adam fell. He says, where ever the Holy Spirit is, there must be peace, joy, happiness, hope, togetherness and light. He is reminding us that the Holy Spirit does not like problems, fighting or quarrelling but rather He's always kind, gentle, peaceful and loving.
His Holiness Olumba Olumba Obu comes with joy and peace. He wants all to live in peace and harmony with others. He says that all those who lack the peace of God will suffer while those who have peace of God will experience love, peace, joy and comfort of mind. Accordingly, the only duty for all is the working of peace. Forget the issue of being an Muslim or Christian, forget about the issue of being born again and not being born again, the entire world is one. He reminding us all, that the death of our Lord Jesus Christ has brought peace into the entire world. Therefore, you don't have to manufacture problems for yourself. Forget about materialism and class classification because there is no peace in them.
His Holiness Olumba Olumba Obu has come to unite every creation of God. Do away with all evil tendencies. He emphasizes the need for one to make peace with all and sundry. That is to remain in peace at all times. For instance if you offend somebody, plead for forgiveness. If somebody offends you, forgive and if the person refuses to plead for forgiveness, forgive him/her and remain in peace. He re-states that if a person realizes that Our Lord Jesus Christ died for his/her sins why then don't you forgive? Leave your brethren to their ways for both of you are sinners. Our duty is to remain in peace and harmony at all times for we are all one.
Religion has done a lot of damage to the human family. Look at how Christians and Moslem are at war, discriminate and even hate themselves. I ask when you indulge in these things when will they have time to teach the truth? The Holy Spirit is asking religious leaders and their followers if people who claim to know God behave this way what them do we expect those who do not know God to do? It is imperative that we abide in peace, take this peace to all and Sundry. Finally, His Holiness Olumba Olumba Obu advises all humanity to refrain from hatred and discrimination because this time is the era of God.
Although the whole world is passing through hard time, but the situation in Nigeria is more tensed despite numerous Churches and Mosques in the country. What do you think is the cause and the solution to this problems?
His Holiness Olumba Olumba Obu has directed that we love one another. This is the only way out. You will agree with me that the misleading teachings in religions and traditions are responsible for the woes and chaos in Nigeria. Nigerians has been indoctrinated with the doctrines of demons and fables that has led to division in tribe and religion. Rather than relate as Nigerians, they see themselves as Hausa, Fulani, Igbo, Yoruba, Tiv or as Christians and Muslim. This sharp division is responsible for the hate, discrimination, corruption and the evil practices endemic in Nigeria.
To come out of our present pathetic situation, Nigerians must take a bold step and be courageous enough to unconditionally embrace the teachings and practices of His Holiness Olumba Olumba Obu as contained in the everlasting gospel. He lays emphasis on love because love radiate humility, peace, tolerance, joy, mercy, forgiveness, oneness and other virtues. With love, Nigerians will no longer hate, discriminate, and indulge in other evil practices against themselves and others.
God has come to take unto Himself those who are living in peace, love and joy. There is no gain in saying you are a Muslims, Christians, Hausas, Igbos, Yorubas etc.
The question for all Nigerians is who created the Muslims, Christians, Hausas, Igbos, Yorubas? Is He not the same God? Can He be divided against Himself?
Light has come into the world and darkness has to disappear in the name of Lord Jesus Christ, Amen. The teaching and practices of His Holiness Olumba Olumba Obu is the only way out for Nigerian and the rest of the world to escape doom and destruction.
The Everlasting Gospel of Leader Olumba Olumba Obu should be embraced at the level of Family, Villages, Towns, Local Governments, States and Nation. The adoption of the everlasting gospel by parents, teachers, politicians and religious leaders will not only transform Nigeria to righteousness but will foster love, peace, unity and prosperity. The everlasting gospel should be incorporated into the curricular of Nursery, Primary, Secondary and Tertiary Education in Nigeria and other countries. Then tribalism, religion bigotry, discrimination, corruption and other vices shall be done away with.