The All Progressives Congress (APC) has been described as the genuine platform for the emergence of a leadership that will bring succour to women in Kogi State.
Kogi State Auditor-General for Local Government, Alhaji Ahmed Usman Ododo stated this while speaking on the sideline of the APC Women Rally in Okene, headquarters of the Kogi Central Senatorial District.
He noted that the APC government under the leadership of Governor Yahaha Bello had set an unprecedented record by the election and appointment of women into critical leadership positions in the state and local government levels of political leadership.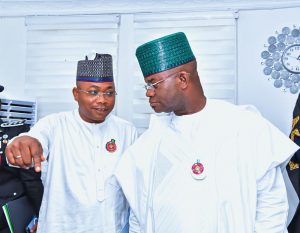 According to him, under the present administration of Governor Yahaya Bello, women now occupy over 40 per cent of leadership positions at the local government level in particular which he said is the most crucial tier of government that brings development closer to the people.
"Apart from appointments to key cabinet positions in the state, you will recall that His Excellency Governor Yahaya Bello worked in collaboration with the party leadership and members during the last local government election in the state to ensure that all vice chairmanship, council leadership and at least 4 councilorship positions across the 21 local government areas in the state were allocated to women.
"He is the only governor in Nigeria to be so gender-sensitive. Only an APC government can make this happen and we shall do even more for women for their support for the party", he said.
The philanthropist while commending the leadership of the APC women in Kogi Central for their support for the government, also charged them to vote for candidates of the party for both presidential and legislative positions in next month's general elections.
He called on women in Kogi Central to reject dubious claims by the opposition to represent their interest, stressing that only the APC has what it takes to ensure that women of integrity and genuine love for the people are elected or appointed to positions of responsibility while others are adequately taken care of under the APC government in the state.
He cited the Reference Hospital Okene, new general hospitals in Adogo and Okengwe and several community health centers and schools established and renovated in Kogi central as testaments to the priority accorded to women and young people by the government of Governor Yahaya Bello in the last seven years of the New Direction administration in the state.
The APC Women rally in Okene which attracted nearly 100 women support groups and thousands of other APC supporters in the area is considered a clear statement to bolster the support base and influence of the party in the central senatorial district of Kogi state.