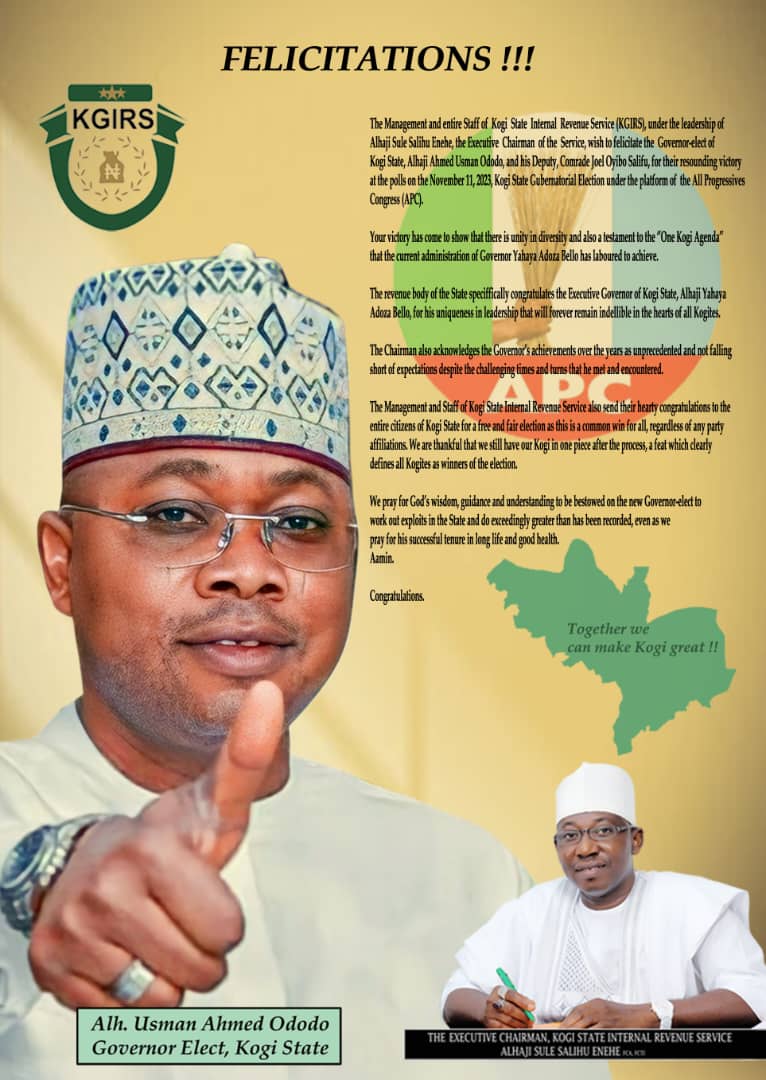 A civil society organization, Conscience for Human Rights and Conflict Resolution (CHRCR), has decried the total neglect and abandonment of Kogi State-owned radio station.
In a statement issued in Lokoja on Tuesday, the Executive Director of CHRCR, Comrade Idris Miliki Abdul lamented that the only state-owned radio station has been abandoned to rot away since March 2021.
Miliki stated that the premises of the now moribund radio station is currently in a sorry state, saying despite the colossal amount of money been spent by the state government on national and international broadcast stations.
He lamented that patronizing those broadcast stations outside the state improves the private firm's revenue thereby denying Kogi people that brought them into power platform to promote their culture and adequate dissemination of information.
"Media is a medium of expression and information sharing, it also serve as a revenue generation and an outfit for employment, whether private or public owned in a society.
"It is regrettable to note that since March 2021 or thereabout, the Kogi State owned radio station have been off-air without justification and verifiable explanation by Kogi state government.
"Apparently, no genuine effort has been made since then to inject life into the station. A visit to the premises of Kogi State radio station in Lokoja, that serve as the mouth piece or mouth organ of the government and people, is in a sorry state. The premises now hosts damaged furniture and unkept environment that is not conducive for media service.
"Recall that in the 31 years of the existence of Kogi State, the state is yet to establish its own television station in the 21st century," he expressed worries.
While reviewing the budgetary allocations for the radio station, Comrade Miliki expressed concerns that the broadcast medium is been underfunded.
"A closer look at the 2022 Budget, the Kogi State Government allocated a paltry N140,219,589 only to Kogi Broadcasting Corporation.
"Also in the 2023, the approved budget, signed by Kogi State Governor, Alhaji Yahaya Bello, N299,947,255 only was voted for Kogi Broadcasting Corporation.
"In a digital era, what can this amount do, or improve in a medium that has been off air for the past 18 months or thereabout?
"The staff of Kogi State Radio Station can not practice their trade or profession since there are no equipment to do so," he said.
He called on Governor Bello to declare state of emergency on Kogi State Broadcasting Corporation as a matter of urgency.
He also charged the Governor to pay a working visit to the Kogi State Radio station without further delay to safe this all importance media establishment created by previous administration in the interest of justice, information dissemination, improvement on revenue generation and development of human capital.
"We call on the Nigeria Union of Journalists (NUJ) and all media practitioners, within and outside the state to safe Kogi State Broadcasting Corporation on the current mess it found itself in the hand of the present administration.
"Since the creation of Kogi State, the Radio Station has never gone off-air for this long. Even the private broadcasting stations in state have never gone off-air for three months.
"It is also worth mentioning that the media industry have suffered under this government than any other one.
"Allowances, vehicles and subventions created by the previous administration have been stopped by this government. We wonder what the Media in Kogi State have done wrong to deserve this unsavoury treatment by the present government.
"2023 elections is here, and regrettably, Kogi Radio has no role to play.
"We call on the Kogi State Government to urgently bring Kogi Radio Station back on-air without further delay."