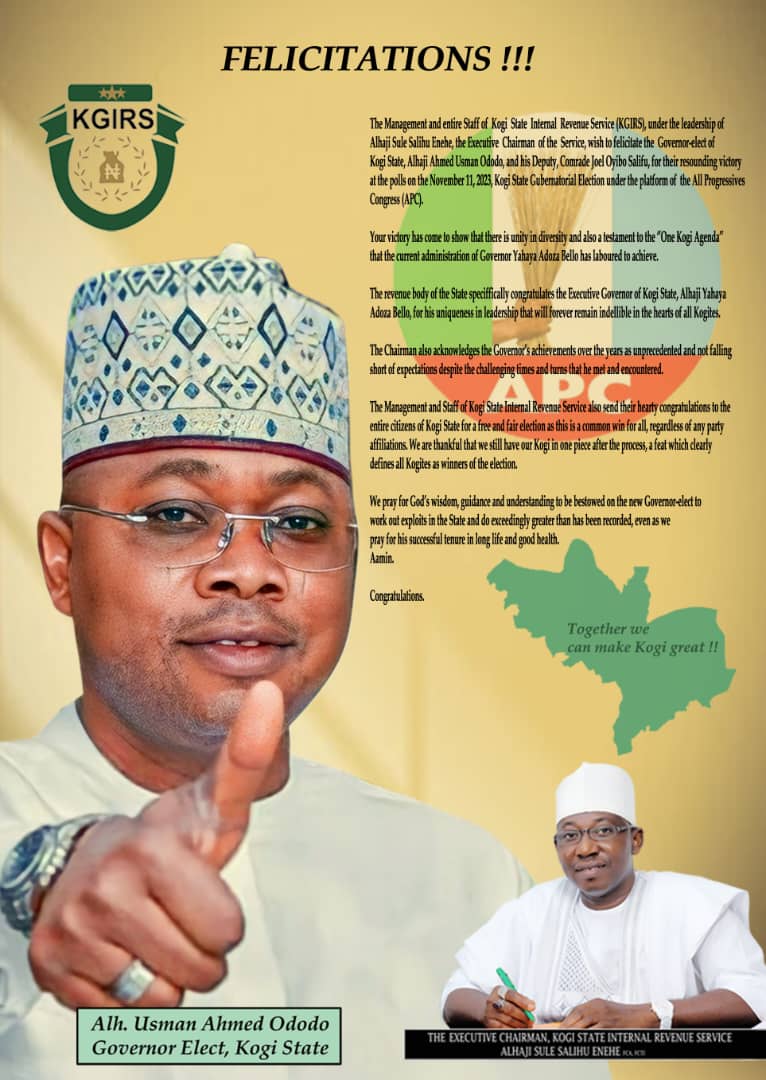 By Balogun Omeiza David (BOD), Media Aide to the DG Government House, Lokoja.
It's said that God works in manifold ways and only those who are close to Him enough can understand some of His footsteps. No man or woman no matter how holy or righteous can totally understand the doings of God. That is why He is God and there is no case for argument.
Mall. Musa Abu is from Gboloko and a Bassa man by tribe. He works as a driver to a man from Dekina. The two of them are both from Kogi State.
You will have to quickly agree with me that the two of them are from the East in Kogi State. The type of understanding God wants us to have as humans is that there is no difference between all of us He has created in His image. He also gave us the ability to be able to give support and take decisions that will be to our benefits as humans.
Supporting a political party or a candidate vying for any political position is always a matter that revolves around a personal decision and interest. This was what prompted Mall. Musa Abu to pitch his tent in support of the All Progressives Congress (APC) Governorship candidate, Alh. Ododo Ahmed Usman (OAU).
It so happened that on a fateful day in October last month he was standing by the roadside with his boss at the popular Pata Market in Lokoja when ODODO was returning from a journey with his entourage. As a big fan and supporter of ODODO, Mall. Musa Abu joined a host of others close to the road at Pata Market to cheer the already popular and victory bound ODODO of the APC.
According to the report given by Mall. Musa Abu, his boss who is a non supporter of ODODO landed him a powerful slap to the amazement of others just because he joyful hailed our ODODO that was returning "jejely" from a trip.
The path of ones destiny is most often than not covered with a veil and the picture of the future looks vague as a result of this. God however allow different actions to remove the thick veil for a man or woman to see and follow his or her path of destiny.
Mall. Musa Abu got a serious slap from his boss for supporting ODODO and the people who saw this erratic behaviour from his boss at the Pata Market were shocked to their bones and marrows.
As fate will have it, a young man named Yusuf, the gateman of Alh. Dr. Umar Oricha Shuaibu, the Director General Government House Administration, Lokoja was present when this ugly incident happened. He went to Pata Market to buy fish and he never knew he will be part of the process God was preparing to fish out Mall. Musa Abu from wanton poverty.
He went and consoled Mall. Musa Abu and helped in cleaning his tears from the pains and embarrassment from the unexpected slap. Yusuf went on to tell him that he will narrate this incident to his boss, Alh. Dr. Umar Oricha Shuaibu and he actually did.
When Alh. Dr. Umar Oricha Shuaibu first heard of this matter, he could not believe his ears. He was surprised to hear that a man was slapped and stopped from his place of work because he saw and celebrated a candidate that he prefers above others. It is just like slapping a person for celebrating the former Super Eagles midfield maestro known as Austin Jay Jay Okocha.
The well acclaimed Government House Administrator sent some people to the particular spot at Pata Market where this inhuman incident happened and eye witnesses gave their own version which tallied with what Yusuf and Mall. Musa Abu (the victim) narrated to Alh. Dr. Umar Oricha Shuaibu.
As characteristic of Alh. Dr. Umar Oricha Shuaibu, some tears dropped from his eyes upon hearing this painful story. He was moved to pity for this ugly incident that has happened to Mall. Musa Abu.
This boss that slapped Mall. Musa Shaibu pays him one thousand naira (₦1,000.00) per day. He collected his key from him and sacked him at the spot simply for supporting the Governorship ambition of ODODO. What a world!
The Director General Government House Administration promised to be of help to Mall. Musa Abu. He consoled him and asked him to take what has happened to him as part of his fate in life. Today, the Speaker, Kogi State House of Assembly, Rt. Hon. Umar Aliyu Yusuf visited Alh. Dr. Umar Oricha Shuaibu in his Quarters at the Government House and suddenly there was a knock at the gate. It was Mall. Musa Abu that appeared when the gate was opened. He was quickly introduced to the Honourable Speaker by Alh. Dr. Umar Oricha Shuaibu.
Thereafter, he announced the gift of a white Golf car to Mall. Musa Abu. The whole atmosphere was as quiet as a graveyard afterwards until when everyone started to find their voices again.
All those who were seated were in total shock. Mall. Musa Abu received a shock when he was slapped and here he is again in another shock for a reward coming out of the shock from the slap. Nobody saw this coming except God and Alh. Dr. Umar Oricha Shuaibu himself.
The Honourable Speaker was speechless when Alh. Dr. Umar Oricha Shuaibu begged him to be the one to handover the car kets to Mall. Musa Abu.
The meaning of tears of joy was well understood by all those who were present today. The outpour of prayers by those present when this car gift was given out by Alh. Dr. Umar Oricha Shuaibu shook the heavens. Mall. Musa Abu was all tears and all joy at the same time.
He thanked God Almighty for making him to be part of those that will be called a car owner in his lifetime. He appreciated Alh. Dr. Umar Oricha Shuaibu repeatedly uttering words of prayers in great joy.
He mentioned the name ODODO more than a million times. Putting the icing on the cake, he has promised that all of his people that he has control over will vote for no other Governorship candidate than ODODO.
Alh. Dr. Umar Oricha Shuaibu made a remark thus, "This is the type of campaign we are into as a party known as the APC. We are poised to lift people out of poverty and also to reset the faulty brains and mindsets of some people who are yet to know how we are to relate with ourselves as human beings."
May God bless all men of goodwill.