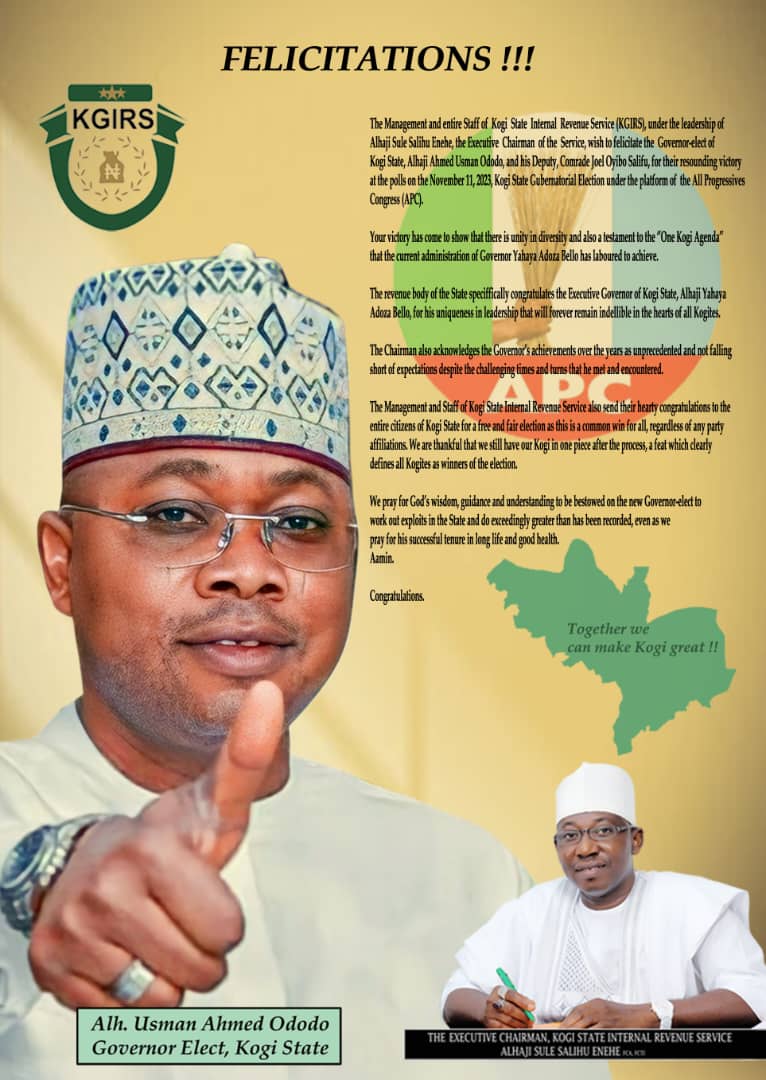 …..'We've done enough work to win overwhelmingly'
…..Those running helter-skelter should tell Kogites what is chasing them — Ododo
The Governorship Candidate of the All Progressives Congress in Kogi State, Usman Ododo, has called on security agencies to release chieftains of the party who were arrested in Kogi East on Tuesday.
He said the APC chieftains that were arrested were noble people with no questionable character, and had no reason to engage in thuggery or other vices, adding that the raid on their residences and destruction of property were sources of concern for the party.
"Just this morning again, about seven of my members were picked from my community. I don't breed thugs because I don't condone criminality. The security agencies should carry out their investigations and release our people with immediate effect," he said.
Ododo who spoke to journalists in Lokoja, said from all pointers on ground and with all the laudable achievements of the current administration, which the people of Kogi State had attested to, victory was sure for the APC, adding that those who already knew they would lose were the ones stoking violence and levelling baseless allegations.
He called on the security agencies to be fair to all and ensure the security of lives and property before, during and after the Governorship election.
The governorship candidate lauded the security agencies for the good work they had been doing in the state, promising that he would always be available to honour their invitations as he had always done if they needed clarifications about the activities of the party or any of the Campaign chieftains.
"As a law abiding citizen, and as somebody that has worked on the field, somebody that carries out investigation, as Auditor General for Local Governments, I know what it takes to manage human beings. The people of Kogi State are looking up to the security agencies to ensure a peaceful election.
"My members have been arrested, some of my leaders, even in my community, this morning, they have picked, not less than seven of my members. I allowed them to do their work. I will not interfere with their investigation. I believe by the time they are done with their investigation and none of them is found guilty, they will be released. I have been invited severally by security agencies, I have been honouring their invitation, not once, not twice, and I'm ready to honour their invitation at any point in time. I don't breed thugs. I have advised my followers not to engage in any criminality because I don't condone it.
"My members that they have picked, I still base it on allegations. Let them do their investigations and I believe they will do that without bias. As soon as they are done, they will be released.
"But in a situation where security agents are harassing and detaining my members without saying what offence they have committed, I want to call on them to release them and face those criminals that went to Kotonkarfe to kill an APC supporter and get them arrested.
"That is what they should focus on and not the law abiding members of our party. So I call on them to hasten their investigations and release our members with immediate effect," he stated.
On allegations of witch-hunt by the opposition, Ododo said, "If you see somebody jumping from one TV station to the other desperately everyday, leaving where he is supposed to be doing groundwork and courting voters, you should know that if nothing is chasing him, then he is chasing something. They know they don't have a chance. They are just engaging in fruitless propaganda.
"As for us in the APC, we know we are winning. Governor Yahaya Bello has done the people proud and it is time to reward the party. The reward of hard work is more work and we are ready to serve again. We won't join issues with losers who have only ethnic agenda and violence in their dictionary. The APC government has served all the zones equitably and there are ample results to show for it. We are coming to serve them even better."
He urged his supporters to come out en masse on Saturday to vote for the APC, saying a vote for APC is a vote for unity, peace and progress of the state.