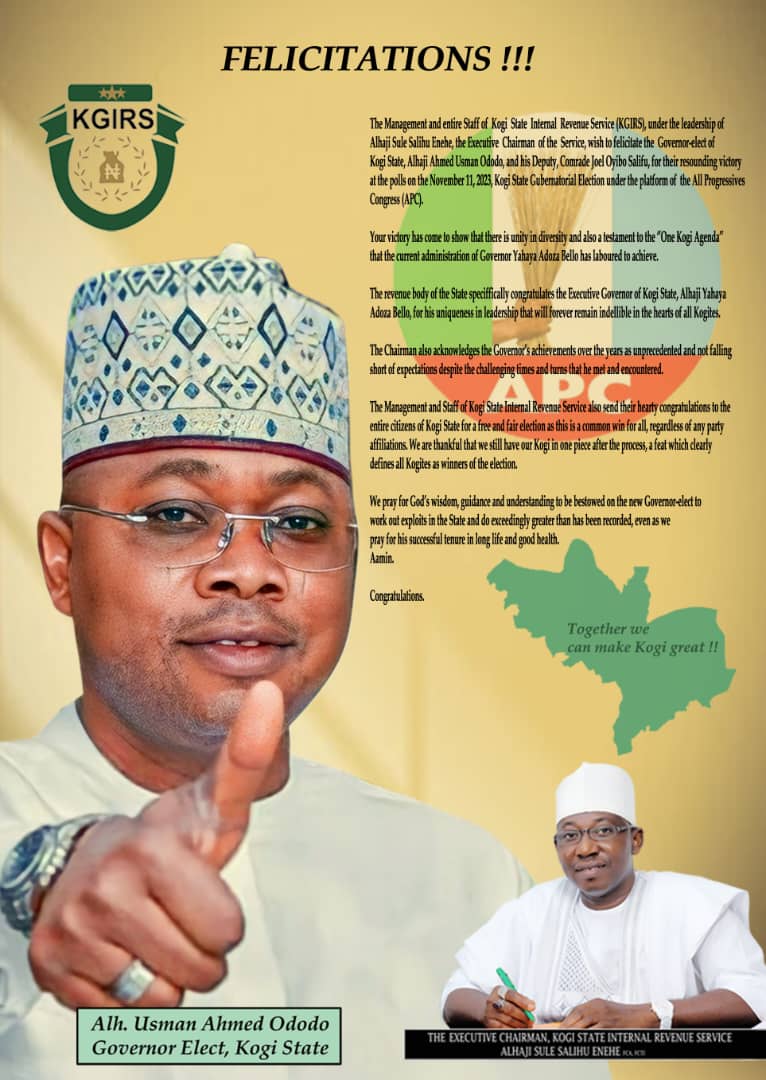 Kogi State Governor, Yahaya Bello has affirmed that youths no longer have any excuse not to take the lead in the 2023 election adding that the ballot should witness more young Nigerians vying for elective positions.
He said they have been legally empowered by the Not Too Young To Run Act signed into law by President Muhammadu Buhari in 2018, which affirmed the whole essence of their constitutional and allied statutory freedoms
Governor Bello made this known on Monday at a 3-day retreat of young Nigerian Parliamentarians in Lagos themed 'Youth Alliance Preparatory To The 2023 General Elections' where he was represented by his Special Adviser on Youths and Students Affairs.
Governor Bello noted that The Electoral Act (Amendment) Bill, 2021 was now in Conference Stage and decisions over the conduct of party primaries and electronic transmission of poll results must be concluded swiftly and honestly, with full regards for the applicable facts and realities of our modern age.
Governor Bello hailed the organizers for fronting such a bold and worthy theme which perfectly befits young individuals like them who have accomplished the near-impossible in Nigeria, contesting and winning elections into high public offices at a relatively young age.
The Governor however challenged the parliamentarians to deploy their considerable resources and influence towards crafting Nigeria fits our dream as the debates of the next Nigerian leader continue to take on and off the media space.
He added that they should use their law-making powers and political clout to fashion a Nigeria in which the foundational principle for unity was not holding everyone down by the force of arms or fear of harm, but a nation that guaranteed all citizens security, unity and peace.
He added "such Nation must be equitable and allow everyone to thrive on his own merits. Tribe, religion, class, age, gender or physical ability must not be used to discriminate against or marginalise anyone and civics must encourage cooperation and integration as a cardinal tenet of citizenship. We have to start substituting the place of residence for the state of origin and finding ways to immediately and brutally punish corruption in private and public spheres"
He urged them that as parliamentarians, they should continue to support his propounded Four Principal Pillars of Inclusiveness within our Nigerian context which include; the constitutional guarantee of equality as citizens being binding on leaders irrespective of their personal beliefs, feelings and inclinations and that equity, unity and the fear of God were the principal bedrocks of a diverse but egalitarian society.
Also according to the Governor, Inclusivity and equal access to government and her institutions are the inalienable right of all citizens and that affirmative action is for every section of the populace whatever their gender, age, physical ability, class, tribe or religion, and Government is useless unless it ensures that wherever people are disadvantaged or excluded in our society, leadership is bound by law to take action to balance the scales.