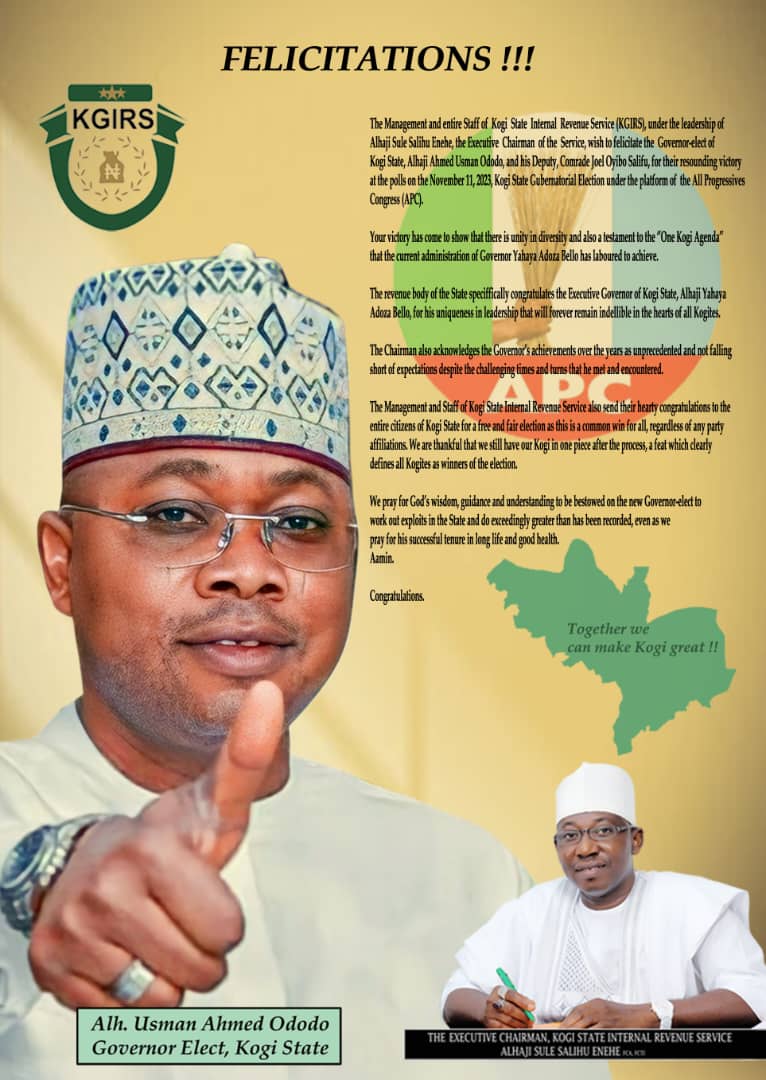 An International Election Observer and Executive Director, Connected Development, a Civil Society Organisation (CSO), Ambassador Hamza Lawal has admonished citizens in Bayelsa, Kogi and Imo states to exercise their right to vote by coming out en-mass to choose leaders who will steer the course for the next four years.
Lawal gave the charge on Friday at the Security, CSOs, INEC and Media round- table session on peaceful gubernatorial election in Kogi State held in Lokoja organized by KONGONET in collaboration with Connected Development (CODE).
According to him, while the critical stakeholders remained vigilant in monitoring developments in Kogi, Bayelsa, and Imo states, he expressed optimism that the Saturday elections would witness massive participation , saying "It is evident that Nigerians, now more than ever, yearn for accountable leadership and active participation in electing their representatives".
"The enthusiasm and readiness demonstrated by citizens to cast their votes are encouraging signs, marking a departure from the voter apathy witnessed in recent Nigerian elections.
"Additionally, we acknowledge the increased presence of security personnel, indicating the government's commitment to safeguarding citizens and their constitutional rights. We hope that this will contribute to a fair and unhindered electoral process, where voters can exercise their constitutional right without any form of fear or suppression on any grounds" Ambassador Lawal stated.
While acknowledging the crucial roles played by the media and civil society organizations in the nation's democratic process, the International Election Observer, states that their commitment to transparency, accountability, and the dissemination of information is fundamental to the success of any election in Nigeria.
"However, I want to take this opportunity to admonish us all. In the pursuit of our respective mandates, let us be guided by the principles of fairness, accuracy, and responsibility.
Ambassador Lawal who commended the effort of security agencies in providing adequate security of life and property during elections, urged the security personnels to work together with other stakeholders to ensure the success of the elections in the three states participating in the off-cycle governorship election.
"Let us unite for a peaceful election, upholding the principles of our democracy. Importantly, let us reject violence unequivocally. Regardless of individual preferences, let us have faith in the electoral process and commit to upholding the tenets of democracy.
"Together, we can make the governorship elections in Kogi, Imo, and Bayelsa exemplary demonstrations of our collective commitment to democracy" he said.
Shedding more light on the effort of Connected Development (CODE) in election monitoring across the globe, Ambassador Lawal said the organization is dedicated to
empowering marginalized communities through information, provision of platforms for dialogue with the government and getting citizens to hold them to account.
He added that CODE also utilized technology and social media to foster transparency, accountability, and good governance.
"Leveraging on our election intelligence tool – UZABE, we have actively engaged in monitoring elections both internationally- in Kenya and Liberia, and nationally, including the recently concluded 2023 Nigerian elections.
"During this electoral process, we trained and deployed over 20,000 volunteer observers, and our Situation Room meticulously verified 12,889 incident reports, providing a comprehensive overview of Nigeria's electoral landscape. It is our commitment to replicate this rigorous monitoring process in the Saturday governorship elections in Kogi, Imo, and Bayelsa.
"Our on-the-ground assessments in Kogi State have revealed positive expectations among the populace" he stated.
In his goodwill message, ehe Acting Director National Orientation Agency (NOA), Kogi State Directorate Mr Patrick Odogbanya revealed that the agency had carried out voters education across the 21 local government areas in Kogi state to sensitize the citizens at the grassroots on the need for peaceful election.
He added that the agency also dwelled much on the negative effect of vote buying and selling during election, assuring that the Saturday election in Kogi such unlawful activities would not happen in the state.
Also speaking, the representative of NDLEA , Kogi State Command Alabi Stephen Adesoji said every crime committed most often than not , is being carried out under the influence of drugs and therefore advised that drug addicts should not be allowed to go closer to the polling units during election.