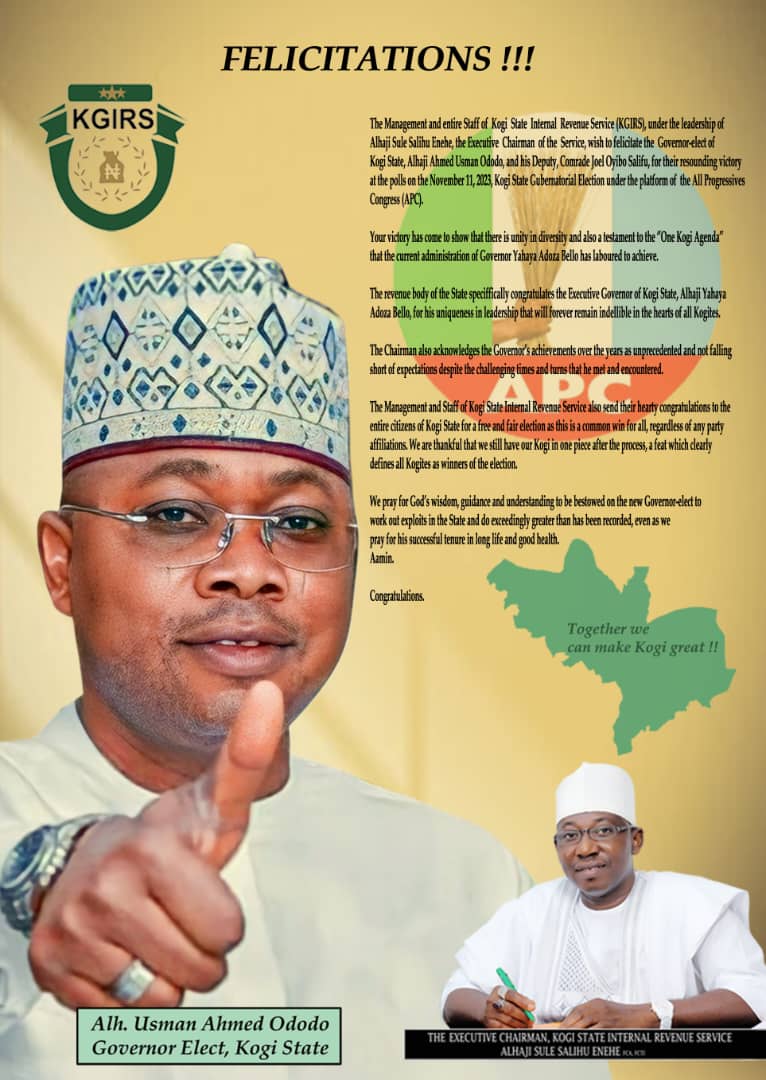 In the last 24 hours, some sections of online media were awashed with concocted allegations against the management of Federal University Lokoja and the Vice-Chancellor, Professor Olayemi Akinwunmi whose achievements have continued to place the citadel of learning in exalted ratings index of tertiary institutions in the country.
This baseless and smear campaign being sponsored by faceless group of disgruntled academic anarchists would not have deserved reply if not to adequately put the record in proper shape for posterity.
No change has ever come easy without a price especially in a system where endemic corruption has endured for a long time. An attempt to right the entrenched wrongs which have been adopted as modus operandi and way of life would definitely meet stiff resistance especially from beneficiaries of the old order.
This simply summarizes the hallucinations of those behind the faceless group who instead of applauding the present administration in FUL, are blinded by phantom or imaginary strain in relationship between the VC and Governing Council.
The appointment of the Vice-Chancellor, Professor Olayemi Akinwunmi was well celebrated amongst academician and those with genuine love for revival of the dying institution even though it came amidst tight competition.
The celebration was not unconnected with the fact that the renowned Professor with proven integrity would sanitise the institution and place it on pedestal of sustained progress in terms of research and staff development which were principally the bane of previous administration.
He has so far performed excellently in line with this mandate with his team and the results are glaring to all except members of the hurriedly-formed 'Transparency Movement Team' that are cowardly opaque in operation.
As expected of him, Professor Olayemi Akinwunmi brought innovations and ingenuity to bear. He established staff school where children of some members of the unfortunate Transparency Team learn at a subsidized rate. The hate-filled members of the Transparency Movement Team could not also acknowledge the fact that Professor Olayemi Akinwunmi was instrumental to the full accreditation of many Programmes in Art and Social Science faculties within very short period of time.
Professor Olayemi Akinwunmi also precipitated Resources Verification of newly established 29 academic programmes which inadvertently made the school to rank 1st among the 12 Federal Universities established in 2011 by former President Goodluck Jonathan, 2nd in North Central and 6th best university in the country.
Federal University Lokoja have had 4 different Inaugural Lectures delivered by outstanding academic icons just as staff proper placement and promotions are done promptly without frivolous and unethical considerations which have held many staff down previously. All these did not catch the fancy of traducers who went to town with ignominious news of illusory financial misappropriation and cracks in relationship between the school and Governing Council.
For the purpose of emphasis, the group should know that it attempt to foster hostility among different sections of the university against the management has failed. Ebira community are not jubilating as you claimed because they are not known for betrayal and unnecessary bile and acrimony against a system. Since you have failed in foisting Ebira community against the management, the most calamitous consequences may befall your ill-concieved group if your next port of call is Igala community. The Igala staff have never hidden their frankness in support of the present management in its quest to develop Federal University Lokoja.
The group with the toga of transparency is heavily yoked with corruption which it made shameless and fruitless attempt to accuse the present management of. It is corruption fighting back. Your wish to have the university thrown into chaos instead of working hard to deepen the recent achievements of the management has failed woefully. This is because people of goodwill know that prudence, probity and accountability are hallmarks of Professor Olayemi Akinwunmi-led management team.