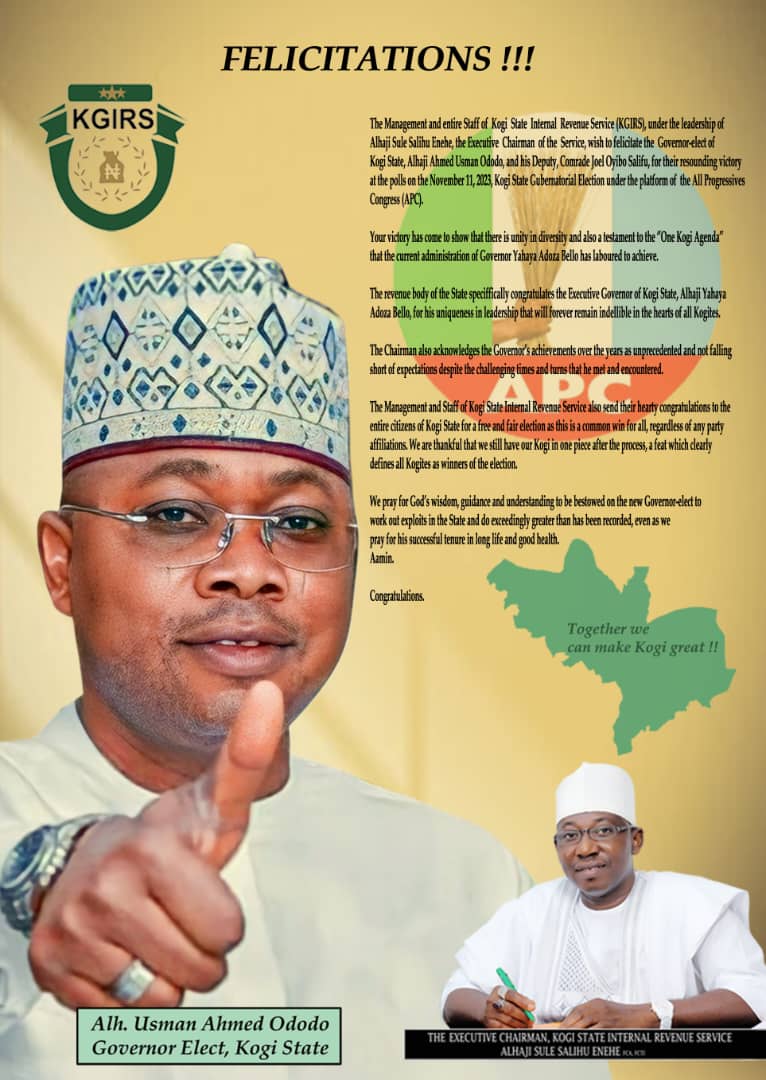 Professor Archbishop David Irefin is a disciple of Leader Olumba Olumba Obu and the international Chairman Christ Missionary Crusade Fellowship for the Brotherhood of Cross and Star.
In this interview, Professor Irefin a renowned Economist spoke extensively on the current precarious situation the nation is witnessing and other sundry issues as it affect the country.
EXCERPT:
Nigeria has been facing challenges in areas of economy, corruption and security. What do you think should be the solutions to these numerous challenges?
Although religious activities, both traditional religion, Islam, Christianity and others keep on increasing, the result has been very disappointing.
No religion is organized by God Almighty. You know, when Adam lost favour with God, the next attempt was to get back to God. Man has been making several attempts to go back to God, and those attempts are what is called religion today.
But these attempts are not necessarily sufficient conditions to get the favour of God, or get back to God. Religion brings division and discrimination. The teachings in our religious organisations do not have spiritual power to change the world.
People are making it appear as if there are several gods, and that's why leader Olumba Olumba Obu calls the said teachings misleading teachings because they are not really based on love.
In finding lasting solution to the country's woes, we must go back to the scriptures. If you go to Revelation chapter 14: verses 6 and 7, it says 'and I saw an Angel holding a book called Everlasting Gospel.' It is the content of the Everlasting Gospel that changes man from unrighteousness to righteousness and can change situations too. The Everlasting Gospel was written by God himself and is now available with us.
So it is God's work by God himself and contains the teachings of Leader Olumba Olumba. So the solution is to imbibe the teachings of the Everlasting Gospel. The only teacher is God. Even myself, I am just a quack teacher before God because the knowledge we give is what makes people to discriminate, hate and become selfish and greedy. God, being the only supernatural teacher is reflected in the Bible. And it is only Leader Olumba Olumba Obu who has come to tell us about God.
You are a senior member of the Academic Staff Union of Universities (ASUU), what do you have to say of the Federal Government's recognition of Congress of Nigerian University Academics (CONUA) and the Nigerian Association of Medical and Dental Academic (NAMDA) as alternatives to ASUU?
Oneness is the solution. I don't think multiplicity helps, so when you bring in more unions, you bring more crises, more confusion. Besides, I don't even know who members of those new unions are. I say so because in our institution, I don't think we have anyone who identifies with those new unions. People are just trying to be funny. Why not do the right thing?
The truth is that our leaders do not know the depth of this matter. When I was a student here in Nigeria, there were Indians in our Universities. People came from all over the world to lecture here but today, do you see any foreigners in Nigerian universities?
Besides, how many countries have students in Nigerian universities? Do we still run universities in Nigeria? If you ask many academics outside our shores, they would tell you Nigeria is running glorified secondary institutions. A university makes sense when it is universal, but Nigerian universities have lost universality.
Even our neighbour, Niger Republic, isn't sending anybody to Nigeria for education. I see what is happening as an unnecessary distraction. The truth is that a teacher with an empty stomach cannot teach well. Karl Max said the first objective of man is to look for food.
What about the Federal government's stand of no-work, no-pay as a result of strike?
That policy is out of ignorance. The truth is that the people at the helms of affairs in the country do not even understand what is happening in the university system.
Before we went on strike, most departments were at the verge of writing exams, some had almost rounded up their syllabus or course outlines, so if you refuse paying the lecturers, how would that knowledge gap be bridged?
For six years now, some of us, including myself, have not had any annual leave but the president goes on leave. Lecturers can't go on leave due to the attitude of this government. And these negotiations can be done in one day but they are saying there is no money. So we don't have money to fund education in Nigeria but politicians have money to send their children abroad.
The Holy Spirit is against strike. The Everlasting Gospel which God has given us is against strike. I am not a proponent of strike but when you oppress people to a certain level, certain reactions could happen. As we speak, President Muhammadu Buhari's IPPIS has reduced my salary by a hundred thousand naira.
So, even if you don't want to promote me, why should my salary be less than what I was ending in 2010? If Nigerians hear what this government is doing and take it to consideration, this government will lose credibility. God is against strike and I am not either since I believe in God, but am not for oppression either. Teachers have been over-oppressed, so if they like, let them recognize a million unions, that's their business.
Experts say Nigeria's economy is not doing well, yet the federal government keeps borrowing. As an economist, what is your take on this, Sir ?
If you look at economic theories, there is no macro economist that will advise you to be borrowing and borrowing, no way. As someone presiding over the affairs and destinies of millions of people, you have to choose between balanced, deficit and surplus budgets and then choose which angle to operate from.
Unfortunately, some have little or no idea of the processes. You should not consume beyond what you can pay for. In economics, before you would advise anyone to borrow, it means that the money is going to the productive sector. You can't say you are borrowing to pay salaries. If you do, how will you generate taxes, to pay off the indebtedness? It makes no sense.
Not long ago, the Chairman of the Nigerian government's economic team came out to say that Nigeria has not borrowed enough. That was an unfortunate statement because you have not told us how you have invested the one you borrowed. It is wrong to even bring governors, lawyers etc into the economic team, very wrong.
So from the word go, this current government has not laid a solid foundation for any economic recovery and we are not surprised, nobody is surprised of what is happening and the worse will still happen because it is alleged that what is being borrowed is also being stolen.
They have borrowed in trillions but the investments are nothing to ride home about. Even on the railway, how many passengers and at what cost are they using the rail transport? All these make no economic sense and that is why everyone must embrace the Everlasting Gospel to know how best to run not only his destiny but that of others too.
We are approaching the 2023 elections and many Nigerians are expressing concerns about security and the stability of governance in Nigeria. What is your advice Sir?
We know that elections are coming next year and that the insecurity situation is terrible. People are afraid. That's a big problem.
Few days ago , I saw former Head of State, Gen Abdulsalami Abubakar with some people in the name of signing a peace accord. Can you give what you don't have? Before you can give peace, you must have peace.
The Abdulsalami Abubakar's peace concept is good but no one can give assurances of peace because it is not in their powers to give. Only one being can give peace, it is in believing in our Lord Jesus Christ since he is the Prince of peace.
No president, ex-president or Minister or even any religious leader can give peace so the wisest thing is to look for Christ wherever he is. Our Lord Jesus Christ is the only one who has the blueprint for the success of the election and everything.
Olumba Olumba Obu is the only one that can guarantee peaceful elections and the world should look for him now. There is no need to go to United Nations. If UN had peace, the body would have given it to Ukraine, Russia, and America.
But a few months to the elections, the Everlasting Gospel you are talking about as the solution is not visible and is not acceptable by other faiths and people.
That is not correct. The Everlasting Gospel has been taken to the Presidency, even the chairman of the Christian Association of Nigeria (CAN) has been given the Everlasting Gospel. I was one of the persons who visited the body.
At the National Mosque, they have received it too. Many churches have been given, even the White House in the United States of America has been given the Everlasting Gospel, University of Chicago has it, so it has been distributed globally but we are still making more available.
However, the challenge is that people are still scared of it; none has come out to testify of it. Most religious organisations have been given, and soon all schools will be given the Everlasting Gospel globally. And it is online too. I make bold to say that this is the solution to Nigeria's challenges.