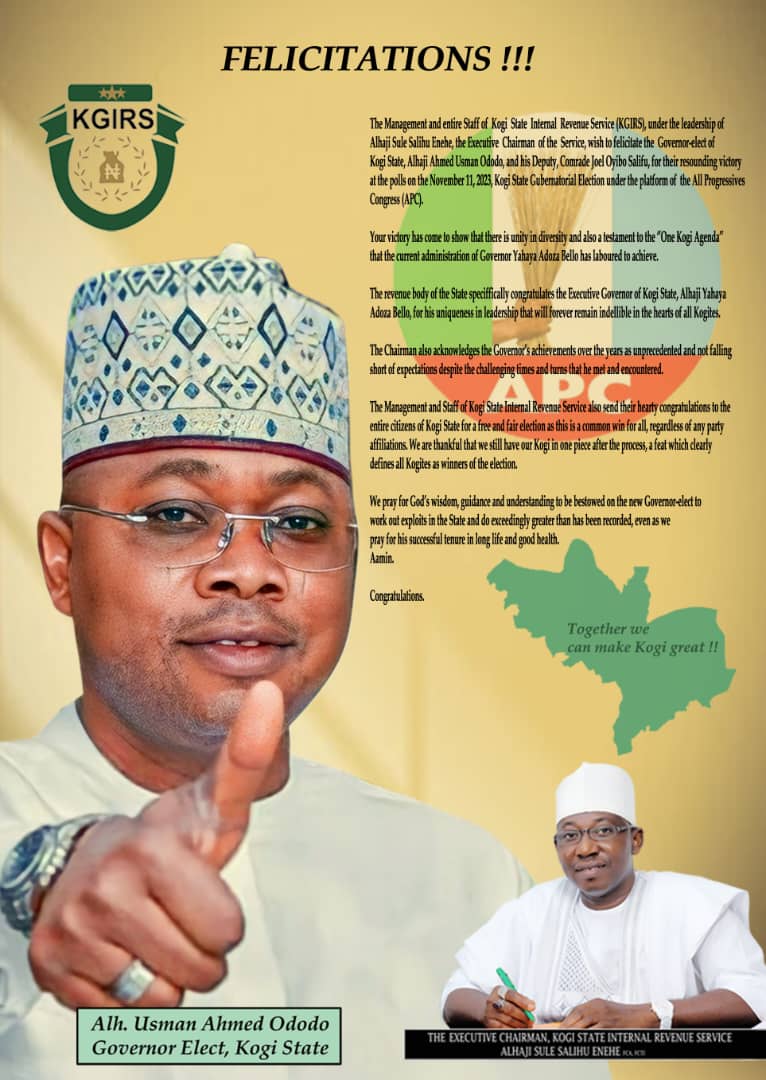 Kogi NGOs Network (KONGONET) has charged critical stakeholders in the Saturday off-cycle governorship election in Kogi State to uphold the highest professional standard to enable INEC achieve peaceful and successful conduct of the election.
Ambassador Idris Ozovehe Muraina the Chairperson, KONGONET gave the charge at the Security, CSOS, INEC and Media round- table session on peaceful gubernatorial election in Kogi State held in Lokoja on Friday organized by KONGONET in collaboration with Connected Development (CODE).
Muraina who pointed out the need for collective effort towards building trust in the electoral system, stated that the will of the people should be respected by the stakeholders.
According to him, the peaceful conduct of the gubernatorial election in the state rest on the collective shoulders of civil society organizations, security agencies, the media, and the Independent National Electoral Commission (INEC).
"Let us rise above personal interests and affiliations, and work together with professionalism, integrity, and a shared vision of a peaceful and prosperous Kogi State.
"It is imperative that stakeholders in the electoral process, uphold the highest standards of professional conduct to ensure a peaceful and fair election" the Chairperson said.
He urged the stakeholders to remain unbiased, impartial, and objective in tje discharge of their activities, sayinhn "Your role should be driven solely by the pursuit of truth, justice in the best interests of the people of Kogi State.
"Let us work together to foster an environment that encourages the active participation of citizens and ensure their voices are heard".
While calling on the media to exercise responsible journalism, Muraina stated that the role of Journalists is not only to inform but also to educate and enlighten the citizens of Kogi State through balanced coverage of the electoral process.
In his address, the Executive Director, Connected Development, a Civil Society Organisation (CSO), Ambassador Hamzat Lawal, revealed that the surge in civic engagement during elections signifies a collective desire for leaders who are accountable, saying as citizens, "we aspire to be more actively involved in shaping the future of our communities, states and country".
While acknowledging the crucial roles played by the media and civil society organizations in the nation's democratic process, Ambassador Lawal charged media organizations to be committed to transparency, accountability, and the dissemination of information, describing it as fundamental to the success of any election.
"I want to take this opportunity to admonish us all. In the pursuit of our respective mandates, let us be guided by the principles of fairness, accuracy, and responsibility.
"The power we wield in shaping public opinion comes with a great responsibility, and we must wield it judiciously.
I urge all citizens to exercise their right to vote. It is your responsibility to choose leaders who will steer the course for the next four years.
"To our dedicated security personnel, I commend your efforts, and let us continue working together to ensure the safety of lives and property.
"Let us unite for a peaceful election, upholding the principles of our democracy. Importantly, let us reject violence unequivocally. Regardless of individual preferences, let us have faith in the electoral process and commit to upholding the tenets of democracy" he stated